Ben Black ends up disheveled on the ground after the team mobs him following his walk-off single in the bottom of the seventh.
By James Kinneen
Hometown Weekly Reporter
Entering the top of the seventh inning with a two-run, 11-9 lead, Rocket closer Ben Black couldn't end Needham's game against Brookline with his arm, giving up two runs to leave the game tied 11-11 in the bottom of the seventh. Instead, he would end it with his bat, hitting a two-out, bottom-of-the-seventh walk-off single to give the Rocket their first win of the year, 12-11.
What would ultimately be a wild, high-scoring game started out as a rather pedestrian one. After working his way out of a first inning jam that saw Needham trail, 1-0, starting pitcher Nico Schwartz found his groove and after a few uneventful innings, the game remained 1-0, Brookline, heading into the fourth. Defensive mistakes from Brookline helped Needham go up 5-1, before a defensively disastrous fifth inning saw Schwartz pulled for Connor Braley, and the Warriors score six runs en route to a 7-5 lead. In part due to a triple by Jacob Smith, Needham struck back to go up 11-7. They then pulled Braley for Josh Herrera but gave up two runs to hold an 11-9 lead.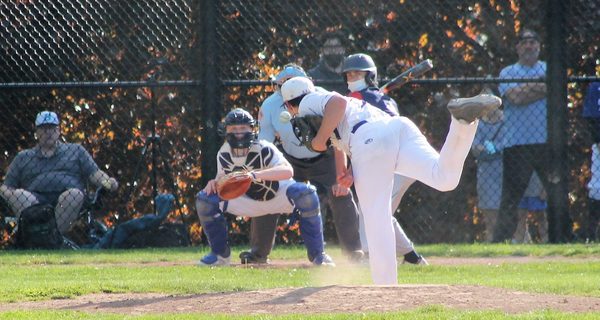 In the sixth, Ben Black started on the mound looking to maintain the two-run lead and end the game. Black, who has a quirky issue where his hat falls off after basically every pitch, walked one and gave up a single. The Rockets struggled with a bunt, and all of a sudden the bases were loaded. A hit scored two, the game was tied, and Brookline was knocking at the door. Black settled, forced a fly-out to the outfield and struck out two batters to keep the game tied at 11-11.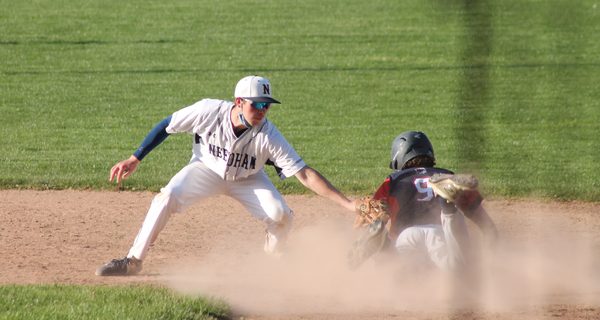 Redemption would come soon after when in the bottom of the seventh, with two outs and a runner on third, Black slapped a walkoff single down the left field line and was mobbed by his teammates as the Needham Rockets won their first game of the year.
"This one was a nailbiter" Coach Rich Raymond said after the win, which moved the Rockets to 1-4 on the season.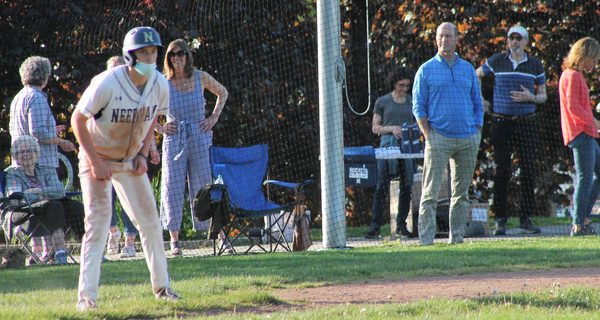 "I had a few more gray hairs by the end of the game than I did when it started. There were a lot of opportunities where we need to clean up defensively, but our guys showed a lot of toughness, a lot of grit. They took some great at bats. They didn't get down. But for us to continue to be better and to continue to find ways to win, we have to clean things up defensively and, in those areas, we need to want to be in the moment."
As for Black's big moment, Raymond wasn't all that surprised, given how well he has been hitting in practice - even if he hasn't gotten many opportunities to show what he can do in a game situation.
"As soon as our three hitter, Will Gworek, walked [in the bottom of the seventh], and Ben Black got up to hit - he hasn't had many opportunities to get at bats this season, but every practice he has progressively gotten better and better swinging that bat and he's been hitting line drives in the cages. So, he's just been locked in and this was a moment I knew he deserved, and he cashed in, and I couldn't be prouder that he got the game-winning hit for us."
Don't expect Coach Raymond to do anything about the hat issue, either. Noting that the pitcher has a "bit of a Tim Lincecum thing going on," for Raymond, as long as Black keeps performing, he won't change it. When pressed on if he's ever talked to him about it, Raymond declared: "I have one hundred times, but at this point if he can go out there and keep doing the job, I'm fine with his hat falling off. Maybe it distracts the hitter, I have no idea. Whatever works for him, I'm not going to disrupt it now."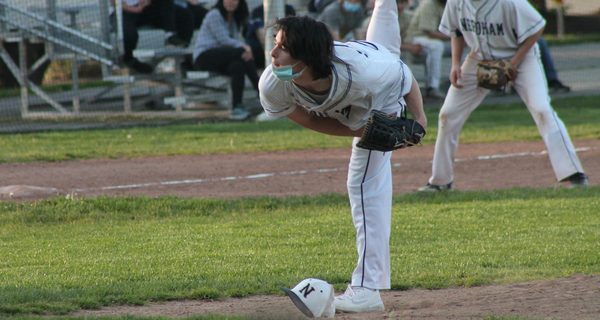 Raymond noted that while it was not the cleanest win, it was still a win, and while there are defensive issues to clean up, the victory came in large part because of a number of player's tremendous efforts.
"There were a lot of players that kind of stepped up in the moment. Almost everybody contributed coming off the bench. We had pitchers that stepped in. Connor Braley coming into a jam with a bunch of guys on base was able to limit the damage and kind of keep us in the ballgame. Nico Schwartz didn't have his best stuff starting today, but he certainly battled and kept us in the ballgame for as long as he could. Offensively, Sam Chutkow back in his first game had some good at bats and was able to put himself in scoring position with the late steal. Max Kasper took some good at bats. Up and down the lineup I thought we did a tremendous job. Reston Kaufman with a huge base hit that scored two guys. It was just a fun game to be a part of. An exhausting game, but a fun game."
Going forward, Coach Raymond was looking forward to Sunday's practice, where he noted will keep his team motivated by breaking the season down into three three-game series, with the hopes of winning two out of every three to finish the season 6-7.
Still, while Raymond noted his message to the team was that "We've got to get better," the Rockets were more than happy to celebrate their first win, which came via Ben Black's clutch hit.
Hats off to him.