By Mike Flanagan
Hometown Weekly Sports Editor
Medfield and Oliver Ames High School girls basketball met for the second time in four days on Thursday afternoon. After Medfield defeated OA to win the Lynn High School basketball tournament on Monday, the Warriors (17-3, 13-3) traveled to Easton on Thursday afternoon looking to complete the sweep of the Hockomock Davenport Division champion Tigers (17-3, 15-1). The game served as a makeup after their original meeting in December was postponed.
Behind a team-high 14 points and nine rebounds by senior captain and guard Annie McCarthy, the Warriors fought their way to a 38-33 win in a defensive showdown.
Oliver Ames jumped out to a 14-10 lead at the end of one quarter. Trailing 21-14 late in the second, a 3-point layup by senior captain and guard Maya Hilvert (seven points) helped trim the deficit down to 21-17 at halftime.
The third quarter saw McCarthy really begin to take over for Medfield. Following back-to-back layups by sophomore forward Annie Stanton (four points, nine rebounds), McCarthy posted up in the paint and laid home a tough basket to trim the deficit to two at 27-25. Following a steal in the defensive end by Lillie Cumming (three points, five rebounds, three steals), McCarthy drilled a go-ahead 3-pointer off a nice pick-and-role with Hannah Sampson to make it 28-27 Medfield at the end of three quarters.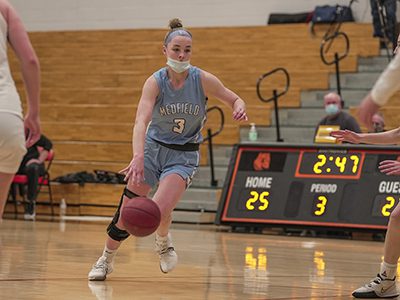 A 3-pointer by junior guard Kate Olenik (10 points) extended Medfield's lead to 31-27 in the opening minute of the fourth, but Oliver Ames fought back to tie the game at 33 with exactly three minutes to play. With 1:28 left, Hilvert took an inbound pass from McCarthy and laid in the go-ahead bucket to put Medfield up 35-33. On the ensuing trip up the floor for OA, a steal by Cumming under the basket gave Medfield back the ball with under a minute to play. Following a timeout with 11 seconds remaining, Cumming delivered the dagger, taking a pass from Olenik and drilling a 3-pointer from the corner to extend the lead to 38-33. Not only did the bucket secure Medfield the five-point victory, but it also served as a feel-good moment for Cumming after coming back from a knee injury that sidelined the senior captain for a large chunk of the season.
The Warriors now wait to find out who they will square off against in the state tournament.
For funny and incisive sports analysis as well as video highlights of games, follow Mike Flanagan on his personal Twitter and Instagram handles @flano0.