[ccfic caption-text format="plaintext"]
By Michael Flanagan
Hometown Weekly Sports Editor
After a 2-3-1 start to the season, the Dover-Sherborn Regional High School varsity field hockey team has found their groove and is unbeaten in their last six contests, going 5-0-1.
Following a dominant 6-0 win over Newton North on Monday at Nora Searle Field, the Raiders (7-3-1, 5-2-1) traveled to Norwood for their first-ever TVL matchup against the Mustangs (5-3-2, 5-2-1) on Wednesday afternoon.
DS got off to a fast start as Kendall Robbins was fed a cross pass from Payton Ahola. The senior captain capitalized with a well-placed shot just inside the far left post to give the Raiders a 1-0 lead with 22:16 remaining in the half.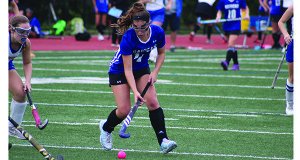 After carrying the majority of the play for the remainder of the half, DS doubled their lead to 2-0 when Emily Caffrey smacked home the rebound of a Payton Ahola shot during a penalty corner with 7:55 to play before halftime.
Norwood was able to cut it to a one-goal deficit with 25 minutes to play in the second half off of a penalty corner. DS clung to their one-goal lead with under 10 minutes to play, but the Mustangs were able to tie the game at two with a goal off of a penalty stroke.
The Raiders were unable to capitalize in the final 10 minutes, and the game ended in a 2-2 tie.
On Friday, DS took to the field at home against Bellingham and again got out to a quick 2-0 lead, thanks to goals by Caffrey and Caitlin O'Connell. However, this time, the Raiders bunkered down and got the result they wanted as Ahola and Emma Goodness added goals in the second half to allow the Raiders to come away with the 4-0 victory.
DS will look to stick to their winning ways when the Raiders host rival Medfield on October 11.
For funny and incisive sports analysis, follow Mike Flanagan on his personal Twitter at @fLAno0.