Families line the street to see the decorated cars cruising the Holiday House Tour route.
By James Kinneen
Hometown Weekly Reporter
Looking to rev up Needham's Christmas spirit and generate a little bit of excitement about their Holiday House Tour, on Sunday night, the Needham Women's Club held its first ever decorated car parade, featuring Santa Claus in a firetruck and about twenty uniquely adorned cars.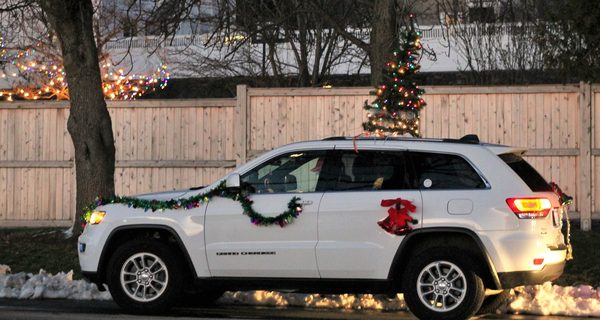 Inclement weather forced the club (who are members of the eighty thousand strong General Federation of Women's Clubs) to move the event to Sunday, which was a far easier adjustment than the Holiday House Tour had to make due to COVID-19. The tour usually take place inside of people's homes, but this year it became a drive-by event that celebrated Needham houses' outdoor decorations.  
"On the normal Holiday House Tour we have about six houses on tour," Women's Club board member Carol Stento explained. "The community buys tickets, and then they tour the inside of the homes. This year it's all outdoor decorations. The lights will be on from December 5 to December 26, and the way we're raising money for charity is through online voting. The tour features 34 homes and seven neighborhoods, the parade will go by about twenty of those homes tonight and five of the neighborhoods, tonight. We've already raised over four thousand dollars through sponsorships and the voting that happened in the first day. The charities we are raising money for this year include gifts for Needham Police and Fire; gift certificates for the veterans; we made a donation to Circle of Hope; and we're supporting the Needham Community Council's Hearts Program."
When pressed which houses a person should check out if they are short on time and can't finish the whole tour, Mary Ann Pierce noted that there are four neighborhoods on the tour route that could be viewed very quickly: Pinewood, Harris, Easton and Prince. And while Carol Stento wouldn't point to a favorite house for people to be sure not to miss, she did applaud the Pinewood neighborhood's combined ingenuity.
"There are a number of great ones. One of the neighborhoods, Pinewood, has a really cute idea: they did holiday movies. So you'll see the Griswolds, the Grinch, and "The Polar Express," since that whole neighborhood had a theme."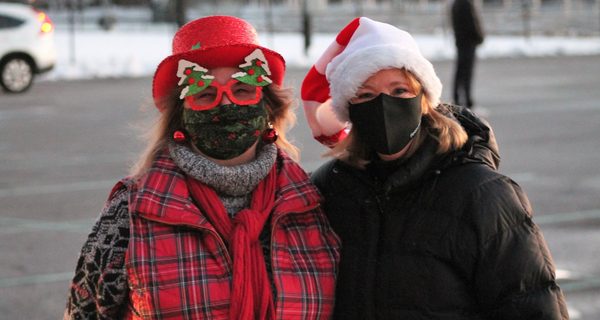 Pierce said that the usual iteration of the tour raises around twenty thousand dollars, so she would like to see this version make at least half of that amount. She also said that even should the vaccine end up being one hundred percent successful and COVID be a remnant of the past at this point next year, the Women's Club "might consider doing a balance of both."
Despite the cold night, the streets were clearly lined with car parade watchers. But the better deal may have been that of the parade participants, who got to meet Santa and Mrs. Claus in person while he walked from waiting car to waiting car.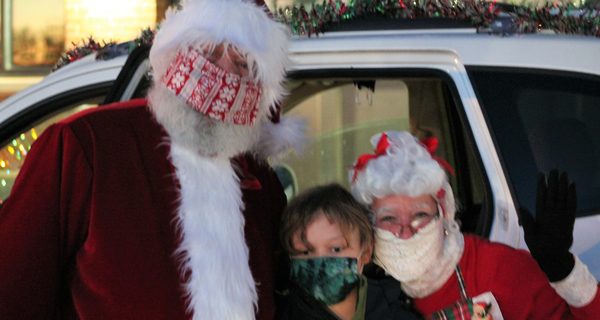 There was no award for best decorated car, although the Operation T-Rex crew, which braved the weather in a top-down convertible, deserves credit for its commitment. It was also interesting how many cars had managed to use their outlets to power house Christmas lights, which they had strung to the vehicles' roofs. 
Stento said that many of the parade participants were also people who had decorated their homes for the holiday tour. So while you may have missed out on the parade, consider this: if this is the kind of creativity they were able to muster for cars they likely had to scrape of snow and ice the day before, their houses must be something to see.