A family points out which of the carved pumpkins is their favorite from the safety of their car.
By James Kinneen
Hometown Weekly Reporter
They say that in the 1950s, people fell so in love with the idea of having a car and were so proud of their cars, that they never wanted to leave them. Supposedly, this led to the rise of things like drive-in movie theaters and fast food establishments featuring waitresses bringing your order directly to your car window on roller skates. This despite the fact that for years, eating inside a restaurant and sitting in a movie theater didn't seem like activities that vitally needed changing.
Similarly, in the era of COVID-19 we have seen many things that were always done in person move to becoming drive-through only. The latest example of this came on Saturday night, when the Needham Parks and Recreation Department hosted their drive-through carved pumpkin viewing on the lower parking lot of the Rosemary Recreation Complex.
Like so many events this year, the drive-through pumpkin viewing came in the wake of a beloved, annual town tradition getting cancelled. In this case, it was what would have been the town's 24th annual Spooky Walk, a trick-or-treating tour through Needham's businesses for kids ages two through eight. While Admin Specialist Kristen Wright of Needham Parks and Recreation said she hoped the event would return next year, she noted that with it attracting about 150 kids, there was just no way they could be COVID safe. Still wanting to still do something for the kids, she explained that the staff came up with the pumpkin carving.
"Unfortunately, because of COVID, we couldn't host that safely this year, so this was our creative way to host an event for families in Needham this fall. Pumpkins were donated by local grocery stores and a local farm. The daytime event cost $20 for participants to get a pumpkin and carve it with their family. We provided all the supplies and the paint, and everything to decorate and carve them. And then we wanted to make it free and fun, at night, and light them up before the parents come and pick them up on Monday."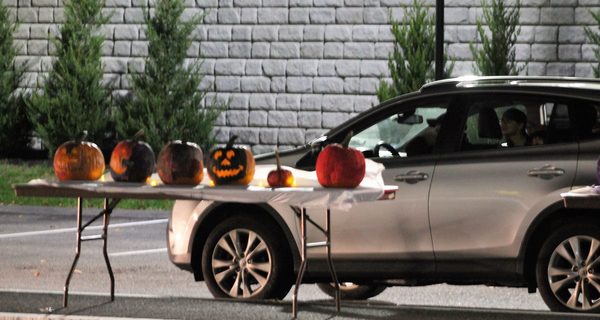 There were no limitations on stenciling, painting, or what type of image you had to carve. The lack of rules likely stems from the fact that, as Kristen first told me, "there's no winner" - before quickly correcting herself and declaring: "everybody's a winner."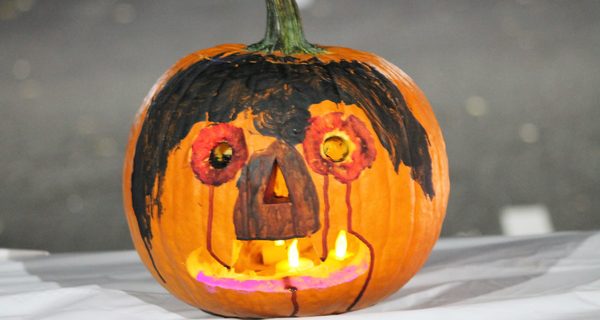 While there were no grand prizes, there were still fan favorites. When pressed on which pumpkin she thought was the best, Wright pointed to, well, her own.
"I made the one with the Parks and Rec logo. There are some fan favorites though - there's a dragon over here, there's a paw down there everyone's been mentioning and loving, but there are a lot of cool faces. Someone was carving the Seattle Seahawk logo, but he didn't finish so he brought it home, and that's okay. There are a couple of ghosts, and then just some really scary pumpkin faces."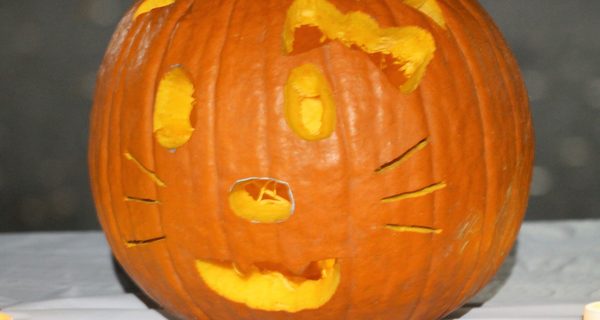 Hopefully next year, we can ditch the cars for the Spooky Walk - but if not, the convenience and fun of the pumpkin carving and drive-through pumpkin viewing will once again be a very welcome substitute.