It wasn't a huge fish, but this family did successfully catch one.
By James Kinneen
Hometown Weekly Reporter
Last week, people across three New Jersey counties were convinced that they had seen a UFO. Videos were taken, tweets were sent out, and amateur UFO hunters couldn't believe that aliens had finally made their way to a more urban environment after decades of having been known for their love of making shapes in cornfields, mutilating cows and abducting rural farmers.
Turns out that it wasn't a UFO, however. It was the Goodyear Blimp. Yes, the blimp that has flown over every big sporting event for decades and has been seen by millions of people either in person or on television was mistaken for a UFO.
I believe a similar story will eventually come out about the supposed otter at Needham Reservoir. I don't trust the articles, I don't trust the pictures, and I don't trust the eyewitness testimony, because I keep going to the Needham Reservoir, and I have never seen it, heard it, or heard anyone say they have seen it.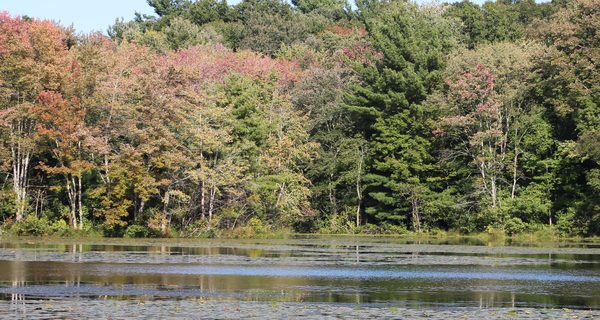 I headed back there this weekend to give it another go, and what I found was what I always find: no otter, just people fishing. There were around ten separate groups of people fishing on Sunday afternoon, despite NFL football now being in full swing. Assuming this must mean these are serious, year-round fishermen I asked one gentleman if what he was catching now, in the fall, was different from what he was catching in the summer - meaning pickerel versus smallmouth bass, or catfish versus trout. Instead, he told me, "Yeah I'm catching the exact same thing I caught in the summer. Absolutely nothing."
Seeking a more successful fishermen, I headed down the walking track and noticed that the golfers had returned to the course nearby. I couldn't tell what hole they were on, but I did find it interesting how close the course was to the walking trail, and wondered how many kids wandered onto the course thinking the nearby "butterfly" sign meant this was a special butterfly garden, only to be confronted by a golfer on the back nine.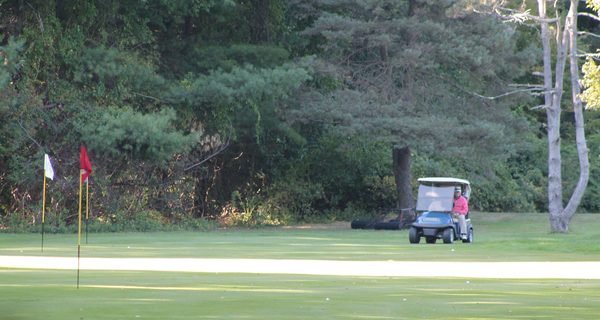 Another odd thing was how many plants had been spray-painted orange. I have no idea why, and the internet was no help to me. My only guess could be that these were invasive species, and someone was marking them to show how far and wide they have grown. Still, between the golfers, the kids on bicycles and the walkers, it felt like while everyone was wearing a mask, at Needham Reservoir at least, everything was getting back to normal.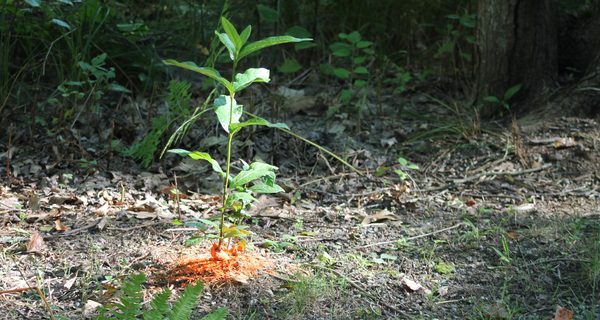 Eventually, I found a family that was fishing and had actually caught a fish. It wasn't a trophy-winner by any means, but they did successfully catch something and were happy to show it off for a quick photograph. The young boy who caught it must not be all that familiar with fishing norms though, since he held it in a unique way, almost like you'd hold a slice of pizza. This was the only animal, outside of the occasional squirrel and chipmunk, that I have seen at the Needham Reservoir.
Someday, I will see the otter - maybe in the winter when the reservoir will be so much less crowded. Or at least, someday I will see what everyone thinks is the otter. But as for this weekend, when it comes to aquatic mammals, I saw the same thing in the fall that I saw in the summer.
Absolutely nothing.