Keefe and Sharma lead the walking group shortly after thanking the fire department.
By James Kinneen
Hometown Weekly Reporter
It seems like far more than a year and a few months ago that social media was fuming about the throngs of people celebrating St. Patrick's Day in Southie bars, obsessing over Italians singing to each other from their balconies, and worrying about Tom Hanks' health as he became the first celebrity to test positive for COVID-19. But as case numbers continue to drop and we turn to debating vaccine passports for businesses, the consequences of enhanced unemployment benefits, and who deserved and didn't deserve PPP loans, its easy to forget that months before George Floyd's murder sparked BLM rallies across the country, the largest public displays of support in America were in appreciation of essential workers.
While over the last year banging on pots and pans to support healthcare workers quickly faded away and "Thank you essential workers" signs became fewer and fewer, this weekend in Needham, a group of young people held a Hope and Gratitude Walk, in support of essential workers, first responders, healthcare workers and educators.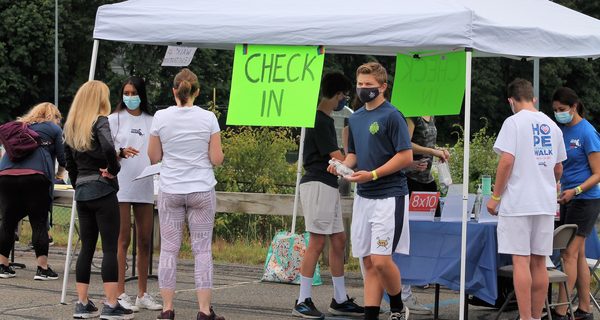 Led by eighth grader James Keefe and Needham High sophomore Amari Sharma, the walk was part of Project 351, a statewide organization that strives to unite the 351 towns and cities in Massachusetts via service projects, which are always run through an eight-grade ambassador. Keefe is this year's eighth grade ambassador, while Sharma served that role two years ago.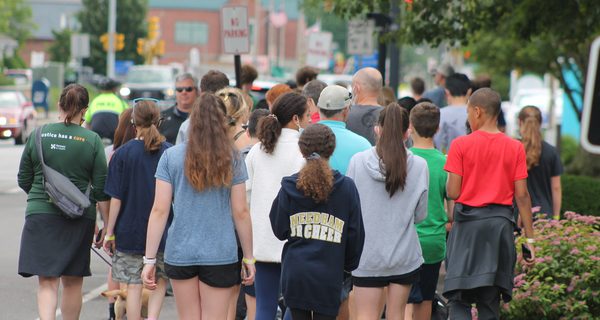 While Sharma did work collecting money for the homeless, the food pantry and for Cradles to Crayons, and Keefe said he will probably be doing those projects in the future, Keefe explained that he wanted to hold the walk because "I think it's really important to thank the people who have been helping us and our communities." While he didn't think people have stopped caring as much about essential workers, "I do feel, especially since it's starting to come to a close with the amount of vaccinations that are being given out and with so much opening up again in Massachusetts, that it's important to thank all the work that's been done throughout this entire pandemic."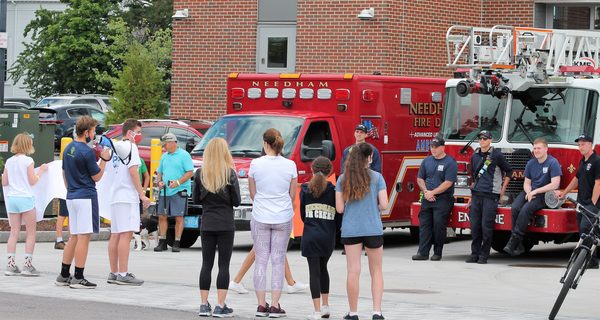 With a bicycle police officer escort, the walk began at Needham High and continued with speeches from Sharma, Keefe and a few others at the nearby grocery store, Pollard Middle School, the fire and police stations and Beth Israel Deaconess Needham. At each stop, speeches were given via bull horn, and at some signed "thank you" posters were given out.   
As COVID-19 winds down, it's unlikely we will see another nationwide wave of public expressions of support for essential workers. But on Saturday afternoon, thanks to Project 351's James Keefe and Amari Sharma, Needham had one.