At the end of the ceremony, it was pointed out that WWII Veteran George Yered was nearing his hundredth birthday.
By James Kinneen
Hometown Weekly Reporter
The rain cleared just in time for Needham's Memorial Day Ceremony last Monday afternoon at Memorial Park. While many nearby towns' ceremonies were significantly altered, Needham's went on without a hitch, with many media outlets on hand to both memorialize the dead and salute Needham's soon-to-be one-hundred-year-old World War II veteran, George Yered.
The day began with the deacon of St. Joseph's Parish, Robert Horne, noting: "On this Memorial Day, we give thanks to God for the dedication and bravery of all servicemen and women throughout history. It is their sacrifice that allows us to be here today in peace and freedom."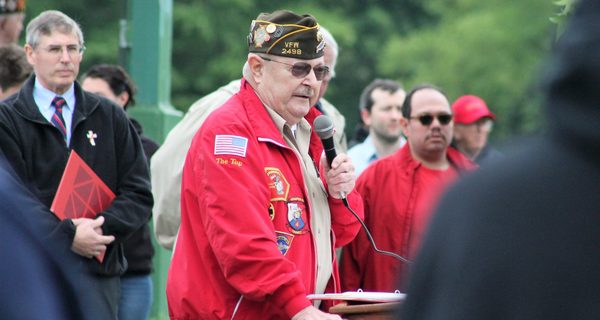 Town of Needham Selectman Matthew Borelli noted how many aspects of our lives have been left behind over the past year due to COVID, from baby showers and weddings all the way to handshakes. But, he explained, while "our sacrifices lasted more than a year, those who we remember today sacrificed them for a lifetime."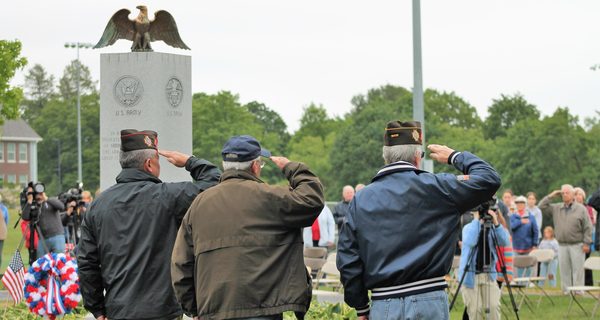 Fresh off of speaking at Westwood's Memorial Day Ceremony, Senator Michael Rush quoted General McArthur in saying: "I do not know the dignity of their birth, but I know the glory of their death. They died unquestioning, uncomplaining, with faith in their hearts and on their lips, the hope that we would go on to victory. Always for them, it was duty, honor and country." With his Boy-Scout-uniform-adorned son by his side, Rush went on to thank the Gold Star families, and to note the work of his favorite Needham veteran, Moe Handel.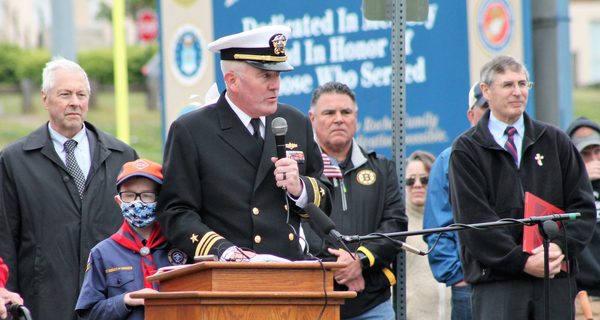 Rep. Denise Garlick started her speech by thanking the American service members who are currently serving, noting: "Make no mistake, they are in harm's way, dying in training and dying in the field. We pray for their safety and honor their service." Garlick went on to speak about the "two death" idea, which suggests that a person dies twice: once when they physically expire, and once when a last person says their name. Memorial Day, Rep. Garlick suggested, acts to prevent that second death.
While Rep. Garlick noted that Memorial Day is not a celebratory holiday, there was someone in attendance who warranted a bit of celebration. On June 12, World War II Army veteran George Yered will be celebrating his 100th birthday. His life was celebrated at the VFW after the Memorial Day ceremony. Born in Quincy to Lebanese parents, Yered spent the war in Okinawa preparing to invade Japan.
"When we were marching down to the docks to get on the ship, we were all talking about the guys we left behind, you know," he explained when asked what he though of the media coverage he was receiving from outlets like NECN and WCVB, who interviewed him at the ceremony.  "And this is what bothered us the most, because we felt we had a long time to end it and the longer it lasted, the more we lost. The guys were all saying what took you so long and, you know, what you are going to do? What's done is done. You can't take it back and you can't change it. Everybody, when they got aboard the ship, was leaning against the railing, looking at Okinawa, glad they left it behind."
While he said his family was in charge of any big parties he was going to have, when pressed on what he is looking for as a gift on his hundredth birthday, Yered's answer reflected the overall message of the day.
"Life."