While too dangerous for my tastes, a couple did find a very interesting spot to relax near Echo Bridge.
By James Kinneen
Hometown Weekly Reporter
You know when you watch the Masters, and right before Tiger is about to win the green jacket with a five-yard putt, everyone in the gallery pulls out their cell phone and starts filming? It's an odd quirk of the social media era, in which cell phones have seemingly infiltrated every aspect of our lives. While young people might have grown up around it too much to notice, I'm always fascinated when it happens. What is going to be different about your video, as opposed to that of the guy next to you? Do you really think your four-row-back, shaky cell phone footage is going to be better than CBS' cameras?
The reason I mention it is that on Saturday afternoon I once again headed to Echo Bridge to see what was going on, having last been there about five months ago. While there were some interesting things to note, the bench overlooking a beautiful view of the bridge was far more crowded than it was in May. With everyone taking photographs at that one specific overlook, I very much wanted to branch out and do something different. I really wanted to get a shot of the bridge that was unique, different, and unlike everyone else's to display in the paper. But after doing my best, the unfortunate truth is there's a reason the image from that one spot is on postcards dating back to the 1930's, and why everyone takes their picture there. Move around as much as you like, trample through whatever brush you want, climb on whatever rock you can find, you're not going to find a better view.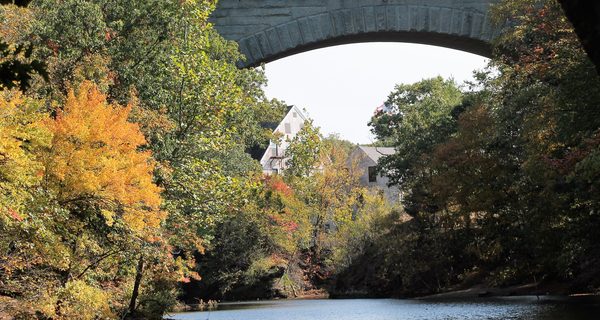 I was glad to see much of the graffiti under the bridge had been cleaned off or painted over since my last visit. Unfortunately, there was still a lot on the viewing platform under the bridge, where you can hear your echo extremely well, that was covered in spray paint. There was also a rope there that was tied to the railing and went all the way to the water. I pulled on it, but it must have been tied to something. A man and his family saw me pulling on the rope, asked if I knew why it was there, and when I told them no, both he and his son separately opted to pull on the rope themselves. Neither of them pulled any harder or adopted a new strategy, which I found kind of funny. It was like the rope was the sword in the stone, and they thought they were the chosen ones.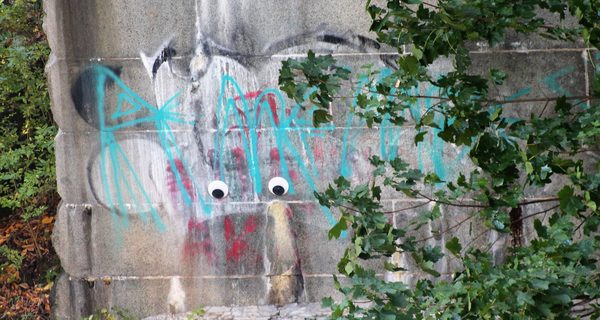 On top of the bridge, I saw a couple of daredevils perched on top of a giant boulder. It seemed like a high-risk, low-reward move, and as I stared at them, I wondered why they were doing it. They seemed very pleased that I noticed them sitting in this position, which might provide a clue.
One of the issues that Hemlock Gorge has, is that what makes it so beautiful in the fall also makes it a bit dangerous. The trip from the bridge to the bottom of the trail is sort of treacherous because of all the fallen leaves, which make it very slippery when walking downhill.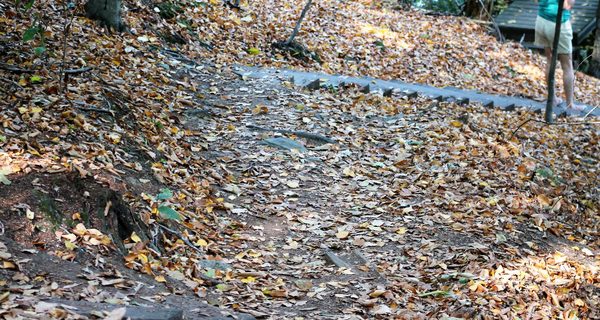 I also noticed a family with a baby in a backpack hiking up the stairs. No matter how many times I see this set-up on a hike, it reminds me of some kind of National Geographic article I would have read in the school library about the people of a far-flung, mountainous locale, and how they carry babies up the hills in wicker baskets on their backs.
Having already been there in the spring and fall, maybe I will head to Echo Bridge once more in the winter. Hopefully, the area will be empty and my willingness to brave the cold will result in the opportunity for some truly unique pictures.