[ccfic caption-text format="plaintext"]
By Stephen Press
Hometown Weekly Staff
In late August of 2016, Hometown Weekly arrived at Rosemary Pool to take in the scene.
"So many pools are holes in the ground, surrounded by concrete with an asphalt parking lot – could be anywhere," Patty Carey, director of Needham Park and Recreation, told the paper at the time. "Rosemary may be quirky, but it is surrounded by nature … I've been to places that artificially try to incorporate many of these features into their pool sites, but here it is done naturally."
With the end of summer rapidly approaching, it was a final chance for the paper to capture the unique Needham hotspot in action - not just for the season, but for the ages. The pool was to be reconstructed and updated over the next year-plus, revitalizing a structure that had initially been built as "temporary" measure in 1972.
The closure resulted in a Rosemary-less summer of 2017.
Needham families, in turn, looked to temporary solutions of their own, with some taking advantage of reduced rates at public swimming facilities Natick, Norwood, and Wellesley.
But so much for temporary measures.
The new, permanent Rosemary Recreation Complex opened to the community at the end of August, and it looks every bit worth the wait. From a spray deck, water slides, and zero-depth entry points to a devoted pool for competitive swimmers, the Complex is an aquatic paradise for Needhamites of all ages and ability levels. And this is to say nothing of the new administrative offices or non-aquatic outdoor recreation areas, both of which are also welcome features of the new facility.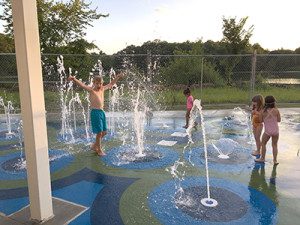 Perhaps most importantly, the Complex retains its "quirky," natural charm - albeit with a vastly enhanced set of features to serve Needham.
With the Rosemary Recreation Complex having recently opened, Hometown Weekly reached out to Park and Recreation Director Patty Carey with some questions about its past, present and future.
Hometown Weekly (HTW): First things first, we had such a difficult winter, which brought construction delays along with the cold and snow. How did this complex manage to open before summer's end?
Park and Recreation Director Patty Carey (PC): This project schedule was fast-tracked to make sure that what would normally have taken 18 months could be done in 13-14 months, so we could open for a portion of the summer. We lost about a month with weather delays, but managed to give everyone a two-week "sneak peek" of the facility. 
HTW: You and your staff are now getting your feet wet, so to speak, at the new space. How is everything coming along? Does the new Rosemary Recreation Complex feel like home yet?
PC: We had a busy few weeks, opening the pools, learning all the "ins and outs" of the new site, while also moving our offices. It's been a challenge, but one that we prepared for, so with help from some great seasonal staff, we were able to keep our offices open during all the transitions. We have a wonderful office location, and are looking forward to offering lots of new programs in our multi-purpose space on the second floor. Being able to work in close proximity to nature is always a bonus!!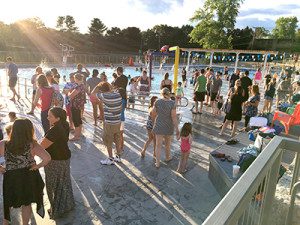 HTW: How surreal was it to be supervising construction, rather than the complex itself, for the last two summers? Did the absence of Rosemary Pool leave Park and Rec feeling a bit like a man without a country?
PC: I wear a bracelet each day that says "Just Keep Swimming," which I looked at each day as a reminder of the fabulous new adventures coming our way. Last summer was very odd for me. I actually swam in the lake for a few years, then at the former pool when it first opened, and was part of its management for about 30 of its 45 summers. We still had our summer programs both years, and our swim team practiced at the YMCA or in Brookline, and had all away meets. I took the opportunity to visit colleagues in other towns, last summer, to get information on their pool operations, which was very helpful. This summer was all about construction and getting enough work done to open for a few weeks. The contractors will be back to do the punch list this fall.   
 
HTW: The facility has expanded greatly with new features. Some, like the water slides and spray pads, are perhaps most obvious. What are some of the less obvious features that Needhamites can be excited about?
PC: The spray pad was a fun addition this summer, and now that the pools are closed, it is used daily by young children. We will be getting our canoes back in shape for use on the lake next year, and will continue to expand our fleet of kayaks, which were donated by Community Center of Needham. The Exchange Club will be donating paddle boats for family use on the lake, too. There is a new trail head off the parking lot that goes around the lake to our camp property site, which is a beautiful destination, if you haven't tried it, yet. On the second floor, Park and Recreation finally has a program space to call our own, so we'll be adding lots of new programs and special events. 
 
HTW: I imagine there are expanded Park and Recreation program offerings that are specifically made possible by this new complex. Can you describe some of them?
PC: We will continue to use some of the school gyms and Center at the Heights for programs, but will be expanding what we offer in the multi-purpose room. We have some new pre-school workshop programs, which will allow children to create and explore. Some of our senior exercise/yoga classes will move to the new room, and we'll look at offering some new options for adults and senior adults. We'll collaborate with Plugged In Needham to do monthly performances and jamming sessions, and we'll plan some family game nights. Our hope is that residents of all ages will find something enjoyable as we continue to expand our programs. 
HTW: We're focusing, naturally, on all the things that make this Rosemary Complex new and unique. But I'm also quite sure that there are some things that will never change about Rosemary. Any thoughts as to what?
PC: At the pools, I would say it is the pool staff. They have always been the jewel of the facility, even when the former pool was getting old, the staff would bring new enthusiasm and energy each year, and insure that many Needham children learned to swim. It has been fun welcoming back former staff to the new facility, and listening to their memories. Upstairs, in the offices, it is still the staff - both full-time and temporary. Everyone worked whatever was needed to keep things going during this super-busy phase, even helping while on a day off. The summer program staff worked extra hard, too!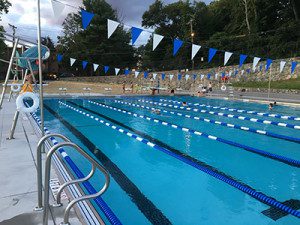 HTW: When I was writing my last piece, you told me: "I was in line the first day the pool opened in July 1972 and went just about every day that summer with friends and family, as well as the next summer." Can you compare the reactions in July 1972 to the reactions you've experienced this summer? Is it a similar sense of awe?
PC: I still get excited to see new recreation facilities – and am proud we are able to offer this in Needham. I am very fortunate to have an office window that looks down at the pools, so even when I wasn't outside, I was able to see so many smiling faces. It was so nice talking to so many of the visitors who were excited about the new pools and spray deck. It is a wonderful opportunity to be able to work on a project for a long time (basically my full career), and finally see it being enjoyed by many. During all the ups and downs of planning, designing and construction, I'm so grateful for all who remained optimistic, including the Park and Recreation Commission, the Board of Selectmen, the Community Preservation Committee, the Rosemary Pool Advisory Committee, the Needham Commission on Disabilities, the Community Center of Needham, the Permanent Public Building Committee, the pool members, Town Meeting, the Park and Recreation staff – and so many residents.   
 
HTW: I keep coming back to the fact that Rosemary Pool was initially planned as a "temporary structure," yet it quickly transformed itself into one of the town's epicenters. Now, there is absolutely nothing temporary about this beautiful spot. By building the new Rosemary Recreation Complex, Needham has formally and permanently ratified Rosemary's place of importance in the community. Can you comment on this?
PC: I like to think we are now part of Needham's "Recreation/Community Mile" or our campus style community center. Starting at Center at the Heights, you then come to Rosemary Recreation Complex, the Needham Public Library, Memorial Park, Needham High School, and Town Hall - all places that bring the community together throughout the year. Rosemary Lake sits in the center of the town, accessible by pedestrians, bicycles, the MBTA bus and commuter rails, and so near to our business community. We have pools, a spray deck, the lake, the trails, and a new programming room – with lots of new adventures to still be created!!