Beth Paisner used birch bark, sweet pea, Queen Anne's lace and monstera leaves - among others - to interpret Julia Clark's artwork.
By James Kinneen
Hometown Weekly Reporter
Last March, Needham's 12th annual Art in Bloom was one of the last public events in town before the COVID-19 lockdowns. With an in-person display out of the question this year, the event has moved online in the form of a YouTube video that highlights the limited number of art pieces and floral arrangements that were made for the event.
Once it was understood the event would need to be held virtually, the main issue came from the lack of artwork. While in most years there are more Needham High artists willing to contribute their work than there are floral arrangers willing to create arrangements based off it, because art classes have been so different during the pandemic, this year, it was the opposite.
"We have a teacher coordinator at the high school named Maria Sartori. I spoke to her and said we'd like to do something this year," Beth Shalom Garden Club co-chair Sue Kaplan explained. "Even though we realize it can't be as big as we've had in the past, where we've had as many as one hundred different pieces. We knew this year it would be a challenge, because the kids in Needham are going to school four days one week and then not in school the next week, so for art classes, it has really been a challenge. But she said she was thrilled and would get something together and get the teachers to participate - which they did - and so we ultimately ended up with eighteen pieces of art."
Although texture has consistently played a large role in how the flower arrangers interpret the art they're given, this year, they were only able to see photographs of the art. The floral arrangements, in turn, were photographed at Temple Beth Shalom, as the event was organized by the Beth Shalom Garden Club. Once the floral pieces were created, Lyn Jekowsky opted to put together a YouTube video rather than a slideshow, as, according to Kaplan, "she felt a slideshow would be too difficult for people to really see it, and this way she could put music to it, add pictures from years gone by and really make a complete show of it - out of just these eighteen pieces."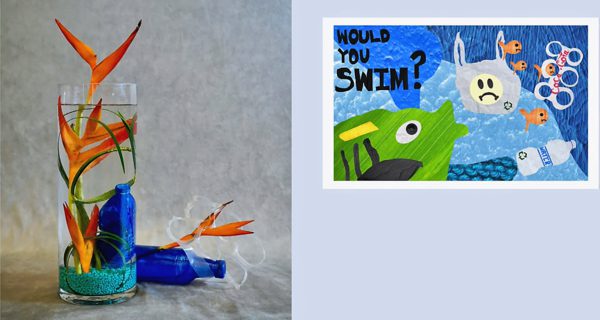 On top of this year's crop of arrangements, the video features images from past, live Art in Bloom events. This is in large part because with the video's accessibility, people who could never have made it to the Needham Library could get a sense of what a more typical, in person Art in Bloom event looks like at the Needham Library.
"This way, people who'd never been could see and really get a good picture of what it was like, because if you've never been to an Art in Bloom exhibit you don't really know what it's all about. This way, it was a way of showing and showing off the student artwork and just getting the message across that this is for the whole community - it's for young and old, it's of interest to so many different people."
Kaplan said there were no issues getting flowers during the pandemic, instead explaining that in terms of the flowers themselves, there was actually an advantage to the event going from in person to online. When the Art in Bloom event is held over a weekend, flowers need to be able to survive for around four days. But with the virtual system meaning they would be photographed much quicker than that, the floral arrangers could use flowers that wilt much quicker.
"Ordinarily, you would get your flowers on a Thursday and the arrangements are made on Friday, and they have to really look good until Sunday night, when the library closes at seven. Instead, this year, people knew, for instance, that hydrangea is very tricky and likely wouldn't hold up for the four days - but this year, they didn't have to worry about that, since they could make their arrangement, have it fresh, have its picture taken and not worry if it didn't live past a few days."
Unfortunately, one of the best aspects of the event could not be replicated online. Although the artists were able to give brief interviews about their work, the high school students weren't able to meet the floral arrangers and discuss how they used flowers to interpret the art.
"One thing we've done every year is have a reception Sunday afternoon for the artist, for their parents, for the teachers, and for all the exhibitors. We couldn't do that this year. Usually, we give them a ribbon of merit and we always have these magnets made with 'Needham's Art in Bloom' on them, so we didn't have that opportunity this year - although we will be sending them ribbons through the school. It's always really fun seeing the kids walking around, and meeting and connecting with your artist has always been very special, so that was missing this year."
Another thing the event has featured more recently has been live floral demonstrations. Instead, like various interviews with artists about their work, these took the form of YouTube videos on the Art in Bloom website.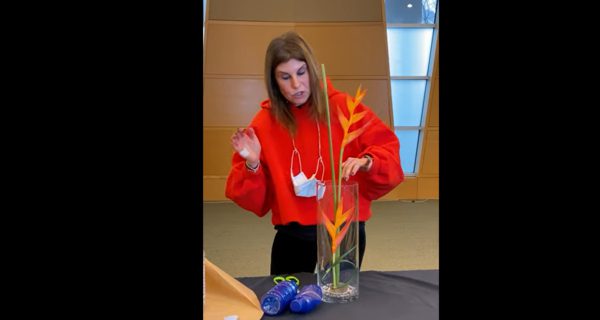 While the in-person event leaves patrons with just a weekend to see the arrangements and art pieces, Kaplan said the video will stay up for at least a month.
Needhamites will find more information about Art in Bloom - including the video of this year's virtual show - at www.needhamartinbloom.com.