There is a new podcast creating some buzz in town. Small Town Scuttlebutt, a weekly show focusing primarily on all that is trending in Medfield and the relevant discourse on social media, has over 1,500 downloads since its launch in mid-June.
Rick Fink Jr. is a parent raising two kids at home and an emerging stand-up comic. Mike Paige is an early childhood teacher at the Medfield Afterschool Program and a local artist primarily working with wood. The two quickly hit it off when Fink would pick up his son from MAP.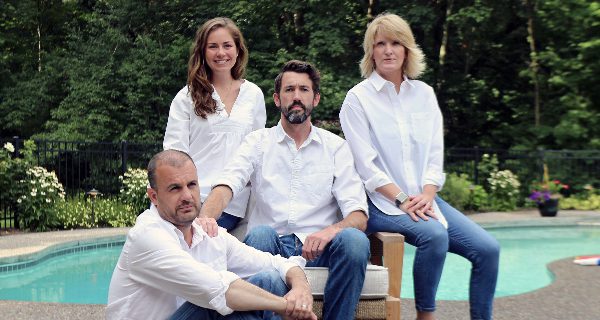 "We would get into some pretty hilarious conversations," recalls Paige. "After a while, Rick asked me if I'd have any interest in co-hosting a podcast with him."
Paige was immediately on board with the idea and the two began the creative process.
"Mike and I workshopped ideas in downtown restaurants until they kicked us out, which in this town means all the way until ten," Fink jokes. "We filled sheets of paper with topics and how to approach them with a satirical perspective. We'd be laughing about all the trivial matters that people here take way too seriously. I'll never understand why people in a town who have it all can find so much to complain about."
The show's creators say while their overall message is to be a little more civil to each other, they are developing a call to action they hope will benefit inner-city kids.
"There was a Black Lives Matter rally in town and then everyone went off-topic arguing over a school mascot," says Fink. "Maybe it's overdue, but how's that leveling the playing field we keep talking about? You have to redistribute wealth, share power and authority, and improve education. We want to do that through fundraising and by partnering with a Hyde Park teacher and community organizer."
Fink says partnering a grade-equivalent classroom in Medfield with an inner city classroom only 17 miles away can create an engaging multicultural experience for both communities.
The duo's plan to launch the podcast coincided with the unforeseen quarantine, which called for some adjustments. "I remember we had it all figured out conceptually. Then the world changed," says Paige, who also created The Mike Paige Doodle Club, a daily drawing program on Medfield TV for kids home from school. The show is Medfield TV's all-time most-watched program, and was syndicated across cable access stations on the East Coast from Maine to North Carolina.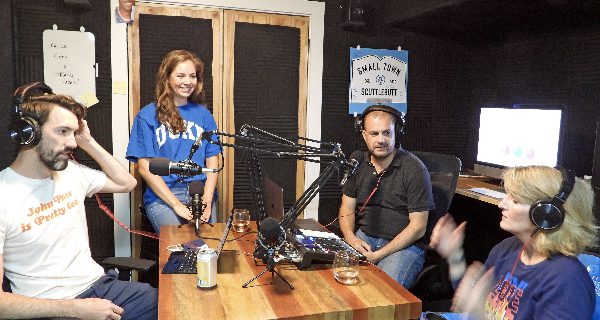 "While Mike was drawing cute pictures or working with wood, I was building a studio in my basement all by myself. Some people think my wife financed, it but I paid for the whole thing with my allowance." Fink says with his trademark, thinly-veiled sarcasm.
Upon realizing the amount of work involved in producing a quality, weekly podcast, they added Boston comic and Medfield resident Kathe Farris after she appeared as a guest. Farris was runner-up in the Boston Comedy Festival and has appeared in clubs and shows all over New England. Fink met Farris while taking her class at Improv Boston two years ago.
"She comes up with the best stuff out of nowhere and I wanted to share her humor with Medfield," says Fink. "We had a blast when she was a guest on the show, so we asked her to complete the trifecta. I'm glad she said yes, because I wasn't going to let her out of my basement otherwise."
"Most middle aged women spend a lifetime avoiding strange men's basements. Not me. Not when there's a microphone and chardonnay down there. Also, the amount of animal control littering our police log is out of control in this neck of the woods and I'm bored enough to make it my thing."
Fink and Paige also tapped Meghan Keleher to be the news anchor updating listeners with the latest concerns on social media and any bizarre reports in the police log. "I grew up in Medfield, so I have a good perspective on this town after going through the public school system with the various sports and activities. I agreed to join the Scuttlebutt crew as I knew Rick's idea of bringing awareness to Medfield, while poking a bit of fun, would be successful."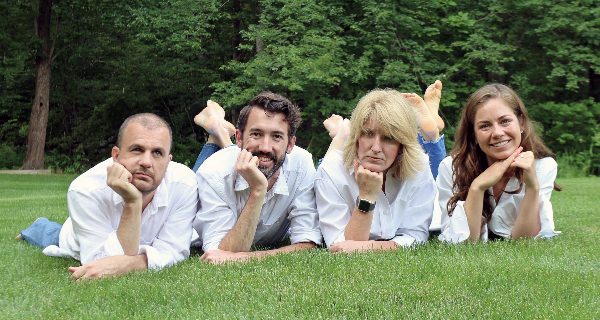 Keleher, who is attending Duke University in the fall to pursue an MBA, will call into the show from campus. She ends her segments with, "I'm Meghan and that's the Scuttlebutt."
The podcasters claim to have representation from the Bravo Talent Group, a fictional outfit run by another lifelong Medfield resident, Leeann Bravo, who incurs a lot of ribbing, especially when she isn't there to defend herself.
"I am pretty confident that she doesn't even know about this article. I mean, she offered no media coaching or talking points? I don't even know what I'm doing right now," says Paige.
Small Town Scuttlebutt releases 12 episodes per season every Thursday. The podcast is available on Spotify, Apple Podcasts, and anywhere else podcasts can be downloaded.