Residents are encouraged to be on the lookout for Medfield Lions conducting the annual "Toll Booth" drive in Medfield on Saturday, May 19, from 9 a.m. to noon, chaired by Lion Ron Gustavson. Lions will be collecting at the following locations:
• Corner of Main St. and North St.
• Corner of Pleasant St. and Main St.
• Blue Moon Bakery, Rt 109
• The Swap Area at the Transfer Station
• Starbucks, North St.
• Needham Bank, Main St. (Back entrance)
• And other locations in and around downtown Medfield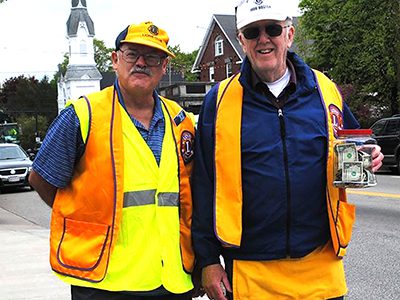 This year the Medfield Lions will give more than $5000 to the Mass Lions Eye Research Fund.
Each year, Massachusetts Lions Clubs bring in about a million dollars, and in turn, Massachusetts Lions Eye Research Fund gives out about a million dollars to the following institutions: BU School of Medicine; Joslin Diabetes Center; Mass Eye and Ear Institute; Schepens Eye Research Institute; New England Eye Center at Tufts School of Medicine; Childrens Hospital; and University of Massachusetts Medical School.