This snowboarder drew plenty of intrigued looks every time he went off a jump he'd made at Needham High.
By James Kinneen
Hometown Weekly Reporter
Because of COVID-19 and the subsequent social distancing protocols enacted to slow its spread, this year, partaking in outdoor activities went from a fun hobby to a sanity-saving necessity. But with the pandemic not really taking hold in the USA until last spring, we've never seen what sort of outdoor winter activities people would be willing to partake in during the COVID era. With this week's big snowstorm blanketing the MetroWest area, we finally got a look at what types of activities people would be doing outside in the snow.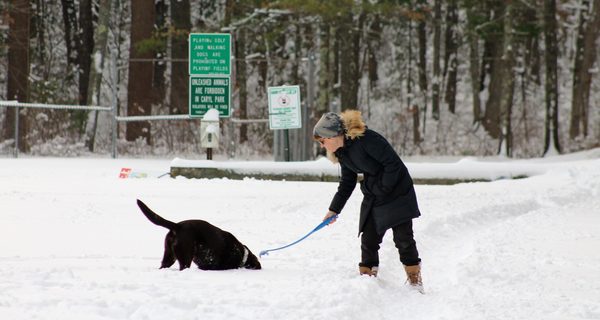 In Dover, it was playing football. I headed to the Chickering Fields expecting to find snowshoers or maybe some cross-country skiers heading down the trails around Caryl Park. Instead, I ran into a couple of people walking their dogs, and a handful of high school kids playing an undermanned game of football in the snow.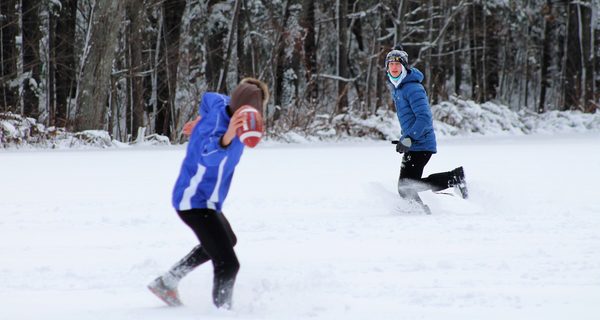 While real "football guys" will tell you that any weather is good football weather, there was just too much snow for that game to be played in any cogent manner. Tyreek Hill could have been playing on that field, and he wouldn't be able to move with any kind of speed through the thick powder that kicked up every time someone tried to accelerate. As fun as playing football in the snow is (because it doesn't hurt when you hit the ground), the snow was just way too deep to really do anything beyond stand around and play catch. Even watching one of the players fetch a jacket to mark an end-zone looked physically taxing, and viciously cold.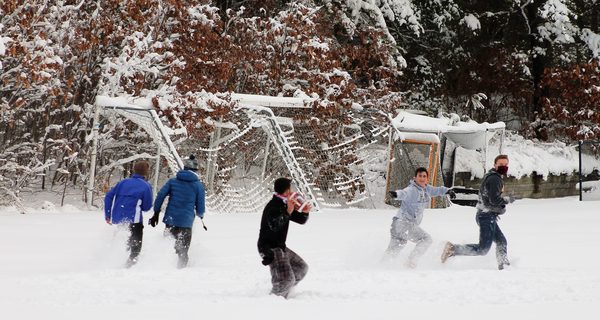 As for the snowshoers, they were mostly in Walpole. Adams Farm had a decent number of people heading down its trails, and you could see even more returning from their hikes in the distance.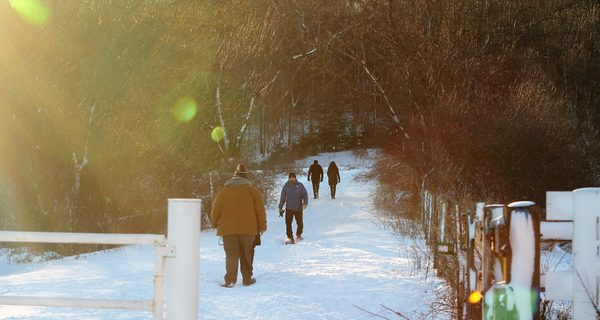 I saw a man putting on his snowshoes in the parking lot and was surprised to see how advanced they were. I assumed they were still made out of wood (I thought it was more buoyant than metal or plastic), but quickly realized snowshoe technology had rocketed past the wooden, tennis-racket-looking things I grew up seeing on the walls of The Ground Round.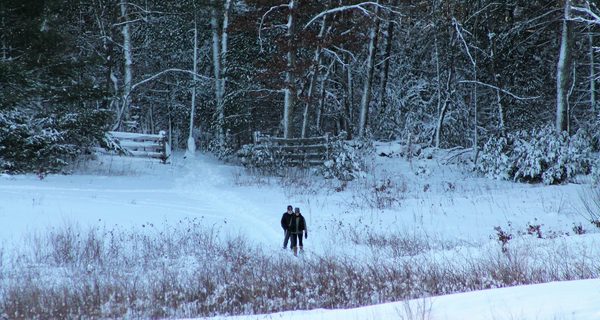 I also drove by kids pulling each other on a sled: it was Everly and Wesley Lamoureux going for a walk around their yard. Everly could have used some snowshoes, though, because she was struggling to pull her brother in the deep snow.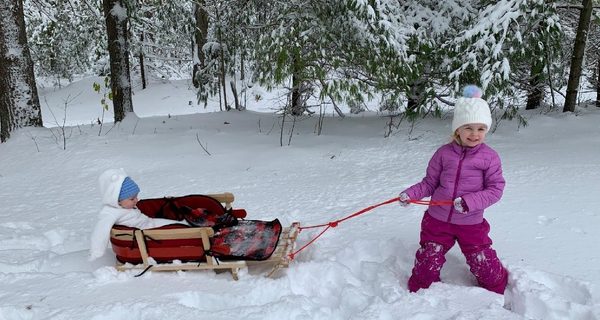 There was no question where the place to be in Needham was going to be. Ever since I went to a graduation ceremony and saw everyone sitting on the hill at Needham High, I knew it would make a great sledding spot.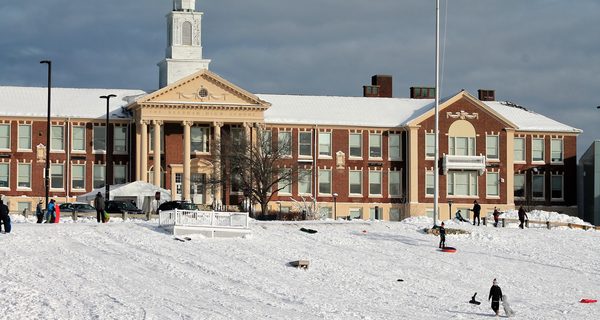 Sure enough, when I went there, I saw tons of kids sledding (fewer high schoolers than you'd think, considering the proximity, though), but a few were even snowboarding. The best snowboarder had actually built his own jump, and it seemed like everyone was respecting the work he put in by not running over it with a sled. To his credit, he was very good and drew a few "oohs" and "aahs" from the crowd when he landed his tricks.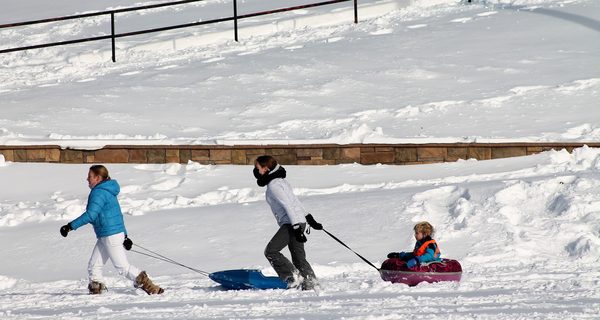 Since the otter was spotted last January along the Reservoir Trail, I figured I would head there to see if he was out. Once again, he was not - although I didn't get very far, since the path wasn't as matted down from hikers as I expected it to be, so he might have just been far away from the street.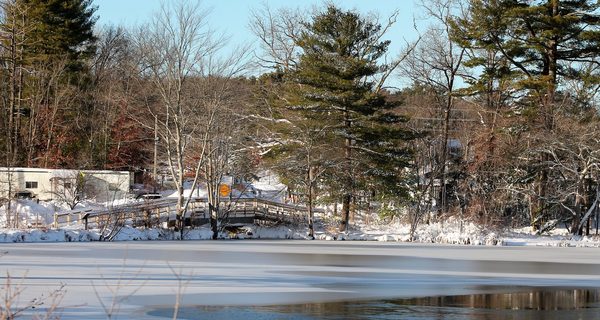 While I knew Needham High would be the place to go for sledding in Needham, Google told me in Westwood, the golf course would be the place to look for winter thrill-seekers. I don't think enough people appreciate how cool it is of golf courses to let you use their hills for sledding. Considering the liability that could be involved, the amount of effort they put into preserving their grass, and the seemingly small (f there are any) benefits to them in letting you do it, any golf course that either allows, or at least doesn't actively discourage (if it's on town land) sledding is A-okay in my book.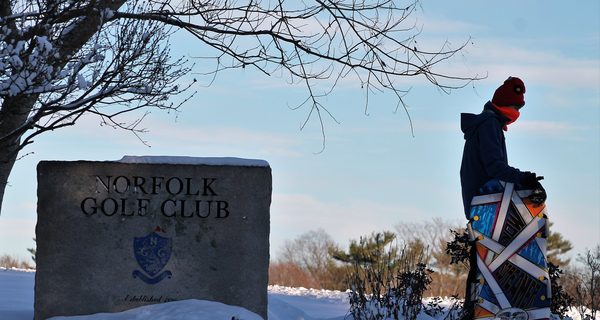 Google said it would be crowded, and it was. Absurdly so, really. While it looked like a fun hill, it was just a hill, so I feel like I must have missed something that was drawing so many more people here than the others I'd visited.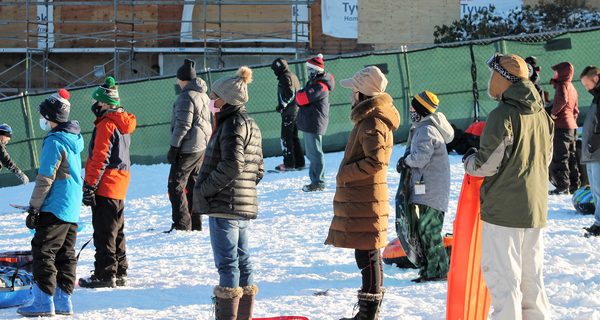 Here's a "Shark Tank" idea someone (because I'm not going to) should invent: a type of pulley system for kids to pull each other up the hill. It would make sledding much easier and much more fun. Surely some engineer can figure out a way to use leverage and pulleys to invent a way to pull kids up the hill without a motor involved, right?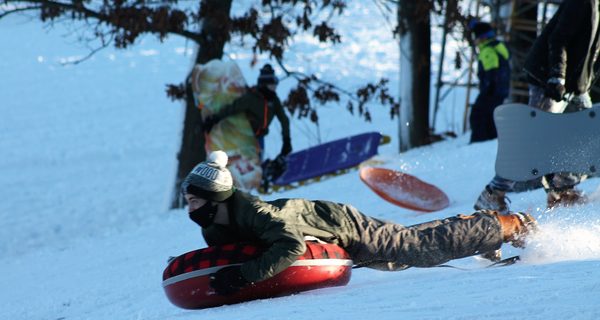 I had actually seen on the internet that the Medfield State Hospital had a sledding hill, but I couldn't find it once I got there.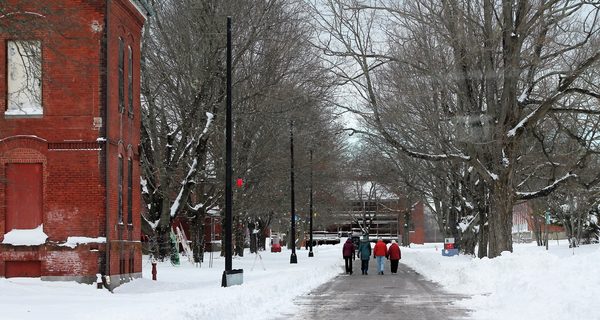 Instead, I found plenty of dog walkers, and a bunch of people setting up the boarded-up buildings with Christmas lights and holiday images.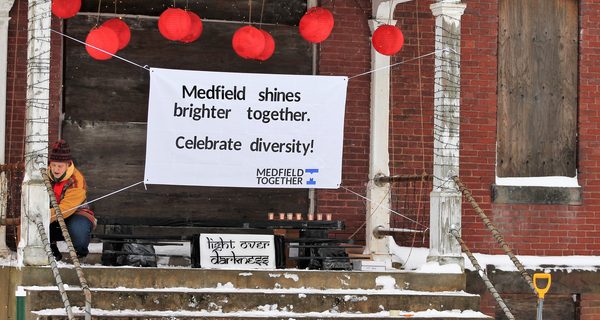 A woman told me it was part of the Medfield TV and Cultural Alliance of Medfield's Drive Thru Winter Lights Display at the historic Medfield State Hospital. It looked like it would have been a fun event to go to, but I didn't have the time.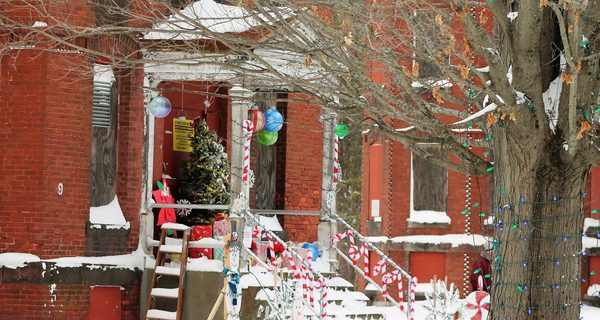 It didn't look like anywhere had water frozen enough to ice skate, which explains why it was the only classic winter activity I didn't see on my journey.
One of the casualties of COVID-19 has been the snow day. With kids learning remotely from home, being unable to drive to school doesn't feel like quite as loaded a circumstance as it once was. But while the magic of waking up and checking the news to see if you have a day off may be gone forever, with COVID-19, the desire to get outside and experience the snow via a fun outdoor activity seems stronger than ever.