The Dover community has a new meeting spot and photo op near Dover Center.
You may have driven by and seen the giant blue Adirondack chair overlooking the beautiful setting at Channing Pond and wondered how it got there. The Adirondack chair was built by Caden Popiel for his Eagle Scout Project to benefit Dover Parks and Rec., which maintains the Channing Pond area, and the Dover community as a whole. The chair was designed by Popiel and assembled, painted and transported to its current site by Caden, along with assistance from several boy scouts from Boy Scout Troop 1 Dover. The chair was completed over a number of weeks and strategically placed at Channing Pond to allow patrons of the pond a peaceful vantage point overlooking this wonderful wildlife setting -- and also to allow residents of Dover and surrounding communities a great photo opportunity.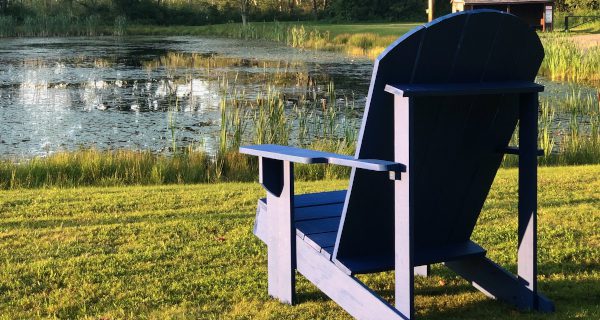 The giant chair stands 7 feet tall by 5 feet wide and can accommodate several people sitting in it at once. It was painted Raider blue to match the Dover-Sherborn school colors, and to allow the chair to grab the attention of passersby in an effort to draw renewed interest to Channing Pond. Caden has been a frequent visitor to Channing Pond over the years in all four seasons, from fishing derbies in the spring and summer to ice skating and hockey in the winter. As a Dover Troop 1 Boy Scout and outdoorsman, Caden liked the idea of doing a project that would draw people to this wonderful natural setting and give families a fun meeting point and photo opportunity to capture many fond memories of the pond area. The giant Adirondack chair is the start of several planned changes and upgrades to Channing Pond which will make it an even more enticing destination for the Dover community for years to come.