[ccfic caption-text format="plaintext"]
By Daniel Curtin
Hometown Weekly Contributor
Friends, families, and farmers were out at the Barber Reservation on Saturday to celebrate the return of the Grange Fair in Sherborn. There, neighbors enjoyed varied agricultural entertainment and learned about their town's rich agricultural history. Once a yearly event, Sherborn Grange Fairs were most recently held in 2011 and 2002. This year's return of the fair brought joy to the town, as members of the community showcased their expertise and passion for farming, animals, and the great outdoors.
Children enjoyed candy corn and caramel apples while waiting their turn for a horse ride. Families lined up for a spin in a tractor-pulled wagon. Dogs enjoyed the open green spaces, observing the different horses and farm animals around them with wagging tails.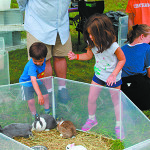 Colleen Neutra, a Sherborn resident for about twenty years, has been to the Grange Fair three times. "In our fast paced world, it is really great to have a day that honors crafts and things that people make and do," she said with Ridge, her eight-month-old puppy, by her side.
The Grange Fair boasted a carnival atmosphere, where different stands of local farmers were selling fresh produce. Visitors scoured through plump, red tomatoes and green peppers for the perfect addition to their evening meals.
Rica Trujillo, who brought her six Icelandic sheep to the fair for people to pet, was enjoying her first visit to the Fair with her woolly companions in tow.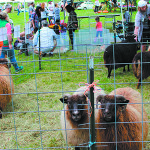 "I came to the last Grange Fair and had an absolute blast," said Trujillo. "I attended a session by one of the local ladies in Sherborn on sheep, and she was [raising sheep] at her house, and I was like 'why can't I do this?' So here I am. I did it."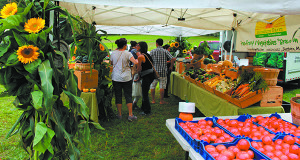 "What is so wonderful about the Grange Fair is that it really should appeal to virtually anybody and everybody," said George Fiske, who grew up in Sherborn and owns a farm. Fiske, like many others in attendance, enjoyed the opportunity to connect with old friends, in addition to marveling at the town's agrarian wonders. "It's a true community event. Of course, I have a fondness for the agricultural history of the town, and this is one way to celebrate what it has been."