The winning group poses with the famed golden shovel that signifies their hot air balloon was the overall best sand sculpture.
By James Kinneen
Hometown Weekly Reporter
Last year, Britt "The Main Attraction", Emma, Morgan, Emmitt, Alexis and Jeff found themselves as one of two groups who crafted an Olaf the Snowman for the Friends of Farm Pond sand sculpture competition. With the "Frozen" fan vote split in two and the presence of an extremely similar sculpture docking them creativity points, they lost to "The Lake Ness Monster."
This year, though, in what was their fourth competition the group was all alone in creating a hot air balloon out of shells, leaves, and pond plants that would ultimately win them the famed golden shovel.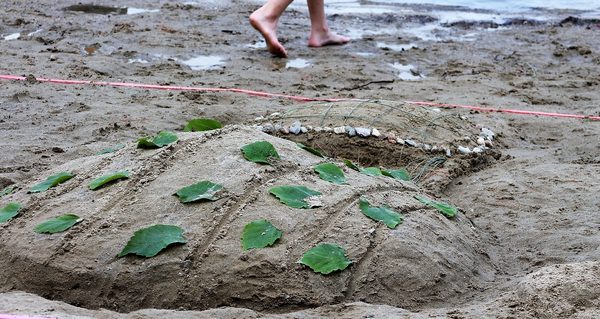 "We've been working up to it," Jeff jokingly explained, noting they had competed in four years' worth of Farm Pond sand sculpture competitions, but this was their first victory. He also declared that the shovel will sit on the mantel until they can defend their title next year - but that in an intimidating power move, like Tyson Fury going twelve rounds with his title belt wrapped around his waist or Hideki Matsuyama teeing off for the final round of the Masters in his green jacket, they plan to bring it to next year's competition and use it to create their next sculpture.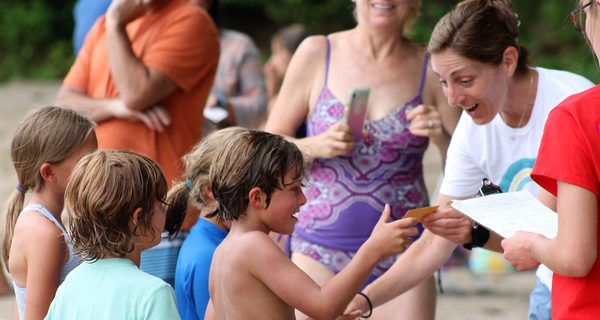 But while this year's winning team is looking forward to its title defense, neither the 2019 champion Meaney Family, nor last year's winners, Joey Talbert, Renee Poblenz and Kurt Poblenz, were on hand to add to their golden shovel collection.
Instead, the group's main competition came from the lifeguard team's crocodile, a sea turtle complete with a clutch of eggs, a couple of classic sand castles and a rabbit. But while they may not have had to face off against last year's champions, the winning group (whose plan-B was to craft a water dragon) deserves credit for having beaten a much larger field of competitors than last year.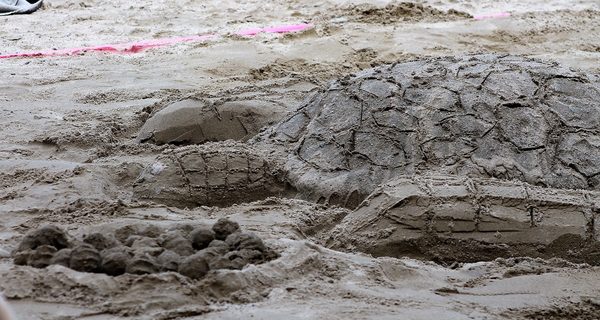 "Last year's was during COVID, so all of the beach was divided into grids already for social distancing, and we had to do preregistering online, so people had to email us to get a spot," Ron Jantzen of The Friends of Farm Pond explained. "Now, we're back to our walk-in-and-show-up, register-at-the-desk system. So, we have fifteen different groups that participated this year, while last year I believe there were about nine."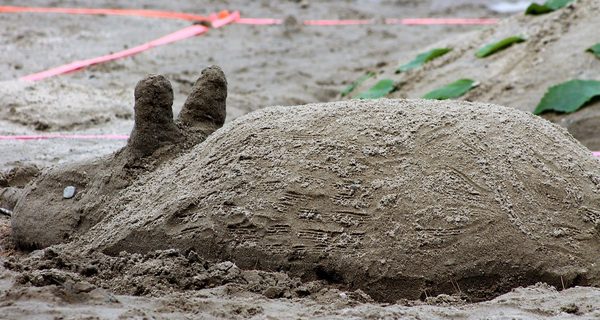 Forty-one overall people participated in the contest, with all the participants winning either movie theatre, ice cream or donut shop gift cards depending on their placement in the competition.
As for what's next at Farm Pond, Jantzen said that the next big event for people to look forward to is the Admiral Funbelow perimeter swim on September eleventh, which acts as a fundraiser for the Friends of Farm Pond and usually takes swimmers about an hour to complete, depending on their abilities.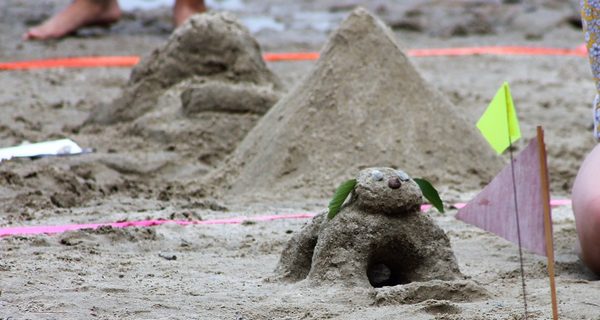 But if you think you have what it takes to do better than the hot air balloon, you'll have to wait a year to join next year's competition. However, you may have some championship-caliber, veteran competition.
They won't be hard to spot. They'll be the ones using the golden shovel.