A group of workers carries an entire trash bag full of garbage away from the beach.
By James Kinneen
Hometown Weekly Reporter
Lifeguard is the king of high school summer jobs.
Working at an ice cream parlor sounds good, until you end up forty pounds heavier, spend every day covered in caramel sauce, and realize how often you have to pick sprinkles off the floor. Camp counselors have to deal with kids' near constant drama, poison ivy, and, if "Friday the 13th" is to be believed, the occasional vengeful masked murderer. "Doing construction with my dad" is good money (especially if you get paid under the table), but it's hot, back-breaking work with co-workers on the wrong side of Ben Affleck's "Good Will Hunting" "doing this when I'm fifty" speech. Little league referee? Better off being a prison guard. I was a caddy in high school. It's a lot more walking and a lot less shenanigans than "Caddyshack" would have you believe.
Yes, lifeguard is undeniably the king of high school summer jobs. Or, at least it was until COVID-19.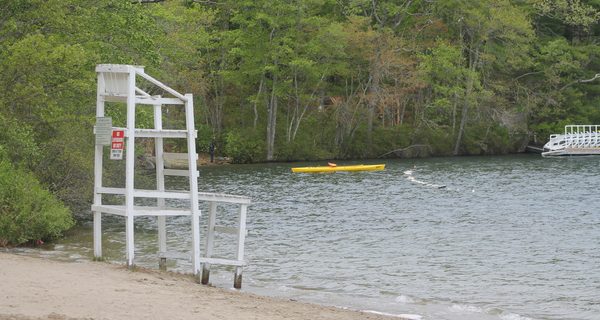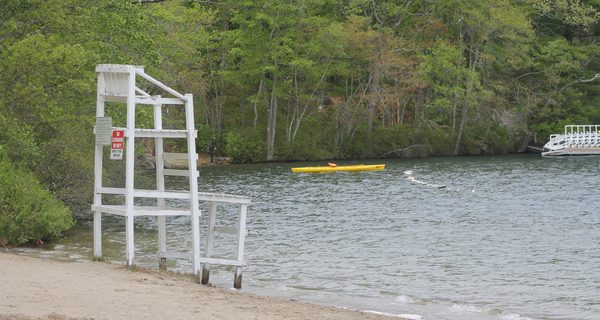 With Memorial Day just around the corner and the weather getting warmer, on Saturday, I headed to Rocky Narrows to see what everyone was doing to prepare the beaches to open. Sherborn has been so serious about social distancing that the very popular trails have been closed until recently. Now, the trails are open for hiking, but the beach at Farm Pond isn't. When I pulled in, the group of kids at the gate said that I was welcome to walk around, but the beach wasn't yet open for swimming.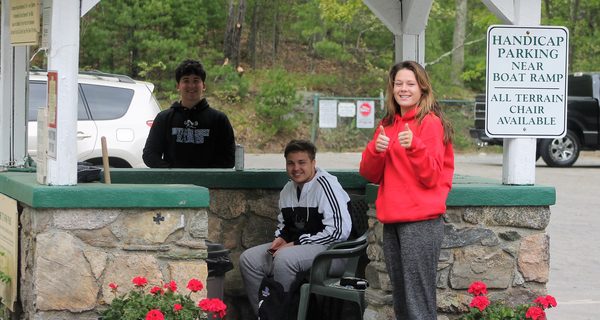 Heading down to the beach, I passed a group of lifeguards carrying rakes and full trash bags. They said they were cleaning the area in preparation to open it, whenever that may be. Just walking around, there was so much trash in that area that, while the lifeguards may not be happy their fun-in-the-sun job has become a cleaning-trash-in-the-woods gig, it's great to see someone doing it. There were plastic bottles, pieces of clothing, even a Fisher Price pirate ship that was in the shallow water. How they determined who got to hang out at the gate and who got stuck cleaning trash, I don't know, but the difference in attitudes was telling. Still, it's great to see those woods being taken care of.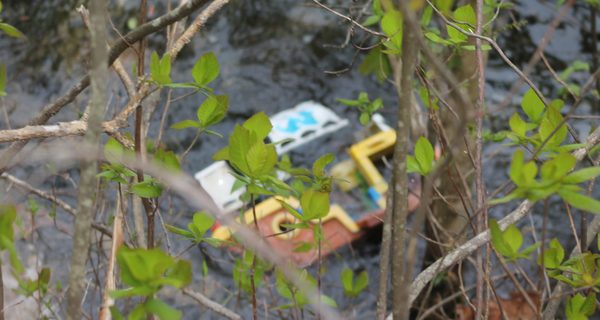 As for the lake. A man and his son were fishing off the beach. They said they hadn't caught anything, because it was too windy, and they were fighting just to keep the line in the water. It was frustrating to watch, too, because their rods were constantly bending, so it looked like they had a fish on the line when they were really just fighting the water.
Another piece of work being done was the building of a new shed for the Sherborn Yacht Club. Lumber was everywhere, and a group of guys had put up a basic wooden frame. Much like road crews working with so much less traffic, this is a good time to replace anything at the yacht club.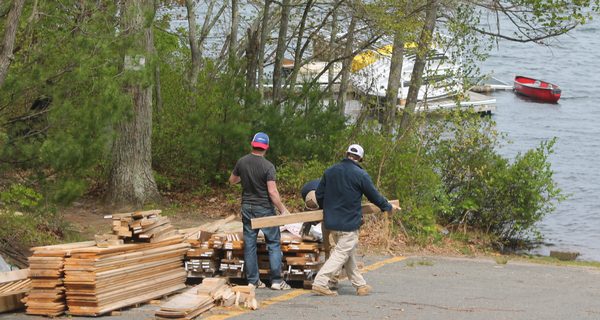 Soon, the beaches will be open and the kids working at the lake will get to sit in their chairs, get a good base tan, and make sure everybody is safe. But in the meantime, they're going to make sure the beach is clean for you guys, whenever you're allowed to go there.