Police tape separating the eight by eight foot 'blocks' litters the beach at Farm Pond.
By James Kinneen
Hometown Weekly Reporter
With brutally hot temperatures over the weekend, people were flocking to any cold watering hole they could find to escape the heat. Luckily for the residents of Sherborn, the beach at Farm Pond was open for swimming, albeit with some COVID-related regulations.
The first thing you notice is that the beach is covered in police tape. Essentially, these are blocks set up to keep people that didn't arrive together from interacting with each other and possibly spreading the virus. While it might be the new normal, it does look kind of like a crime scene. Like everywhere else, there is also a system of entrances and exits, so that people are never scooching past each other to get to the parking lot. But according to Leah Balmer, the biggest difference from last year has been the system of reserving spaces on the beach.  
"We've kind of had to redo all the systems down here, so now there's a one-way system where you go in one way and exit the other way to avoid people crossing over each other. Only one of the bathrooms is open, and we're trying to keep it so that only one person goes in at a time. We have session times now. So, there are four sessions a day with a half hour break in between. People can reserve blocks online if they'd like to, or they can walk in, because we have ten blocks you can reserve on the town website and then there's ten that are first-come, first-serve. Some people find the system tricky, so it's the best of both worlds. And then down on the beach, it's all kind of gridded out. There are twenty eight-by-eight-foot blocks, that are all twelve feet apart from each other. Also, you can take your mask off when you're in your block, and when you're in the water you don't have to wear one, but we're trying to keep everyone socially distanced."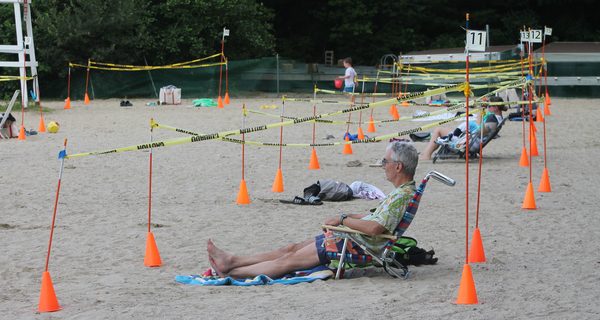 Every block is allowed to have eight people in it, which Balmer said was a better system than limiting the number of cars, because there's no way to know how many people are in a car. The system used to be different, but people kept no-showing after reserving blocks, while others couldn't figure out the websites reservation system.
"Originally, all the blocks were reservations. The system isn't that user-friendly, but it has to be on the Sherborn website because of liability and insurance reasons. People found it difficult to use. So instead of doing all reservations, we've been doing some walk-ins, which has been working out better, because we also had an issue with people reserving blocks and not showing up."
While having to blow whistles at people swimming too far out and yelling at kids for trying to drown each other are the hallmarks of being a lifeguard, now there are all the new COVID-related social distancing issues to enforce. Balmer said people have been respectful, while acknowledging it is not fun enforcing these rules.
"It's not fun for anyone. We're doing our best to try and enforce it, and almost everyone has been understanding, but it's so new for all of us, and it's a pain to have to do this at all. We wish we didn't have to, but because of the Board of Health and their guidelines, we're not lawfully allowed to open without these measures in place. Although it is frustrating, we're trying to pull together as a society, not overwhelm the health systems, and lower the chances of getting it by putting these measures in place. People get it, though; obviously, we're in a pandemic."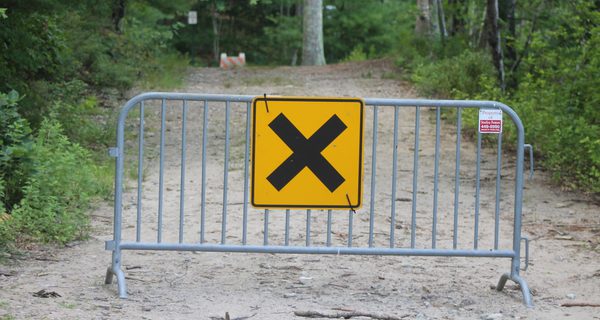 When asked if she had any message for the people of Sherborn, Balmer said: "Thanks to everyone who has come down. It's great to be able to be open. We're trying our best. We're not trying to make anyone miserable. We don't like it either, but you just have to have patience."