[ccfic caption-text format="plaintext"]
By Katrina Margolis
Hometown Weekly Reporter
April Vacation can be one of the best weeks of the spring. Students have the chance to take a break, hang out outdoors, and take a good rest before getting ready for the school year's home-stretch. However, while the sun shone spectacularly for part of this year's vacation, there were a few rainy days that snuck in.
Thankfully, libraries are always well prepared with indoor offerings of their own.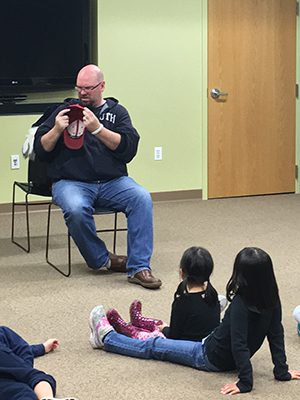 One of these exceptional offerings was at the Dover Library, where Big Ryan's Tall Tales was performed on Friday. Big Ryan was incredibly busy during April vacation this year, going everywhere from Weymouth and Norton, but he was able to make it to Dover for a spectacular performance.
Big Ryan has been telling stories for over 11 years. After high school, he began working in preschool. While he didn't originally think of a future in education, it changed when he began working with Head Start. After enrolling in Quincy College and being told by a professor he had a gift for storytelling, he has never stopped. Now, Big Ryan has programs for all, including toddlers, preschoolers, to elementary-age kids, as well as offering storytelling workshops for children.
His program at the Dover Library included puppets, some of Big Ryan's own original stories, and a lot of laughter. Lasting about 45-minutes, the kids were engaged, entertained, and truly enjoyed themselves.
"Through the years, I have told stories to thousands of schools and libraries, to children of all ages," Ryan said. "I have put on a few plays and recorded some CDs. Every step I take seems to get me closer to my ultimate goal of publishing my stories for the entire world to read.  Ultimately though, I couldn't imagine doing anything different."
Big Ryan performs all over the state, and many of his performances are open to the public. His schedule of upcoming events is easily available on his website.