With more and more entertainment options opening up in Massachusetts, this mountain biker was the lone other person in the Barber woods on Friday afternoon.
By James Kinneen
Hometown Weekly Reporter
If for no reason other than to see somewhere new in Sherborn, on Friday afternoon, I wanted to try out the Hildreth Trail. Unfortunately, the Fessenden Soccer Fields at the corner of Pleasant and Western Streets are currently gated, and there was nowhere else to park, so that trail was essentially out of order. While that was mildly upsetting, my three least favorite things about hiking are getting dirty, getting eaten alive by mosquitoes in a "this feels like what a real estate agent would call a wet meadow" (read: swamp), and of course, any form of walking uphill.
So, I wasn't all that torn up about not getting to experience the apparent majesty of "Dirty Meadow Hill."
Looking for another trail for the day, I opted to head back to the Barber Reservation which I had hiked early on in the COVID crisis. After all, as the famed "weeping" pre-Socratic Greek philosopher Heraclitus of Ephesus famously said: "no man ever steps in the same river twice, for it is not the same river, and he's not the same man."
Outside of the fact that the Barber Reservation hills were much easier for me to get up a few weeks into lockdown than they are after months of online shopping, binge television watching and takeout food, with all due respect to Heraclitus, I'm pretty much the same.
What's different about Barber Reservation? Actually, a lot.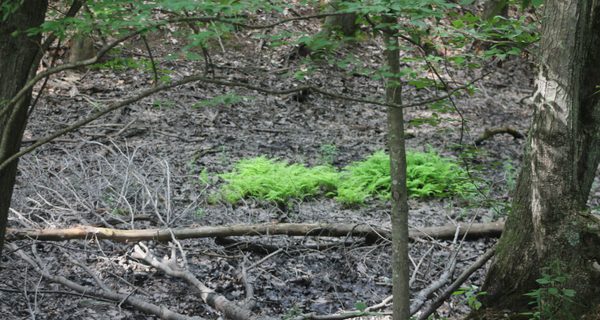 Later in the summer, it's much dryer nearly everywhere. The trails aren't as muddy, the vernal pools, which were little ponds full of wildlife, are now just big holes full of mud, and the main water source has pretty clearly shrunk in size. None of this is very worrying, though: there's still plenty of water, and the sign talking about the vernal pools makes it pretty clear the drying out is supposed to happen.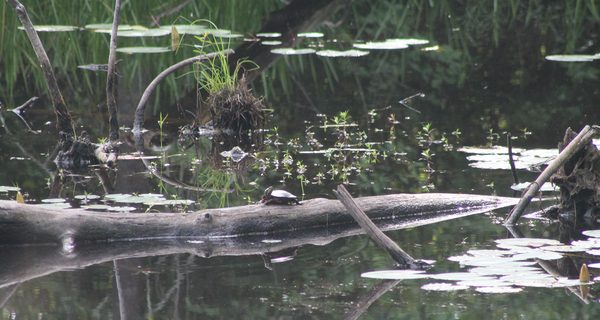 Barber Reservation was also much less crowded. My previous visit had me seeing kids on bicycles, people walking their dogs, other hikers, and horseshoe tracks, which looked fresh enough that someone must have been riding there recently. But with more and more traditional meeting places and industries opening up, hiking probably doesn't have the same appeal it did before. The only other person on the trail was a guy on a mountain bike. When I asked him what was new, he pointed to some new tagging on the trains along the Holliston Rail Trail.
As long as it isn't explicit or offensive, quite honestly, that's not a huge deal. There was already so much graffiti that you'd likely be hard pressed to notice any new additions. The change that was a bit disheartening was that the giant lean-to made out of logs now had a sign from the town nailed to a tree, that read: "The Conservation Commission has known about this structure for a long time and chosen not to do anything about it because we hope its users appreciate this beautiful and peaceful site, and love these woods. But fire and consumption of alcohol or controlled substances are strictly prohibited, all refuse must be packed out, and the structure may not be further enlarged. If there is an further evidence of fires or trash at this structure, it will be removed immediately and without further notice."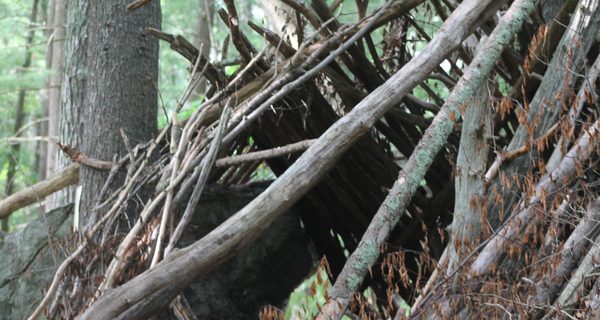 That was tough to see, because someday, some (hopefully in better shape) version of me will return to these woods. And when I do, I would very much like to see that even if there are a whole lot of changes, that lean-to remains.