[ccfic caption-text format="plaintext"]
By Michael Flanagan
Hometown Weekly Sports Editor
By Xaverian football's standards, a 3-3 regular season record that included losses to rivals BC High and Catholic Memorial is a disappointment.
However, thanks to their strong schedule that included three convincing victories against Brockton (31-0), Malden Catholic (34-6) and Bridgewater-Raynham (32-7), the Hawks were still able to earn the No. 3 seed in Division I South a season ago. After cruising past Attleboro (44-6) and Bay State Conference champ Needham (28-0), Xaverian served up some revenge to CM in the South title game with a 35-7 win to advance to the Division I Super Bowl. Unfortunately, the Hawks fell just short of their ultimate goal of a state championship in the Super Bowl, falling 35-10 to the Crimson Tide.
Loaded with talent at seemingly every position and eager as always to defend their South crown, all while hoping to return back to Gillette and get another shot at Everett, Xaverian enters the 2018 out on a mission.
However, before Xaverian even thinks about getting back to the postseason, the Hawks must go through a gauntlet of a schedule, beginning with the team that defeated them in the Super Bowl, Everett, on September 7. Helping the Hawks maintain that mentality and leading them into battle this fall are five senior captains: middle linebacker/fullback Mike Masse, running back/outside linebacker Mike Saliba, tight end/defensive end Trevor Carroll, wide out/free safety Cooper DeVeau, and offensive guard/defensive tackle Lucas Ferraro.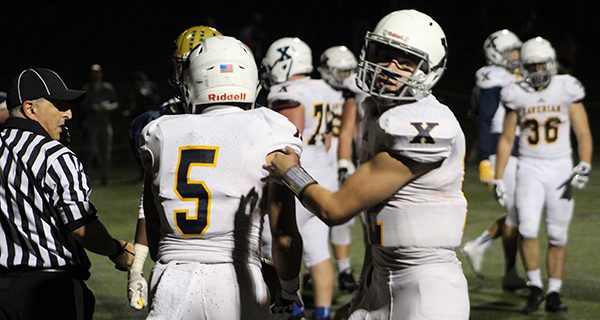 "Playing at Xaverian, I think our goal every year is to be playing at Gillette to finish the season," said Masse of his team's general goals for this fall. "Obviously, it is the last season for all the captains, so we want to have as much fun as possible with everything that we do - and our version of fun is winning."
With legendary head coach Charlie Stevenson gone and Al Fornaro with a year of experience under his belt, Masse says that he and his teammates have completely bought into the culture that Fornaro and his staff have created - the Hawks look forward to having this group of coaches lead them to promise.
"I had the privilege of playing under Coach Stevenson for a year and he's a terrific coach," said Masse. "There really wasn't a huge transition from him to Coach Fornaro and we kept many things the same. Coach Fornaro, in my opinion, is the best coach in the state and he is definitely the best coach I've had the pleasure of playing under at any level. The coaching staff he's put together this year has the potential to bring us all the way."
In terms of what the Hawks must do to improve their overall record, Masse emphasizes the mentality of playing the physical, hard-nosed brand of football that has become a Xaverian trademark.
"Last year, we turned a lot of heads having the season that we did," said Masse. "In order to have a better season than last, we need to control the clock and play tough, ground-and-pound Xaverian football."
As for their week-one tilt with Everett, Masse says that the Hawks need to put together a complete effort and control the time of possession.
"We have a lot of returning starters this year that have a chip on their shoulders after that Super Bowl," said Masse. "We are all prepared to practice as hard as we can this week, and we know that they are a great team that we cannot overlook. That being said, for us to have the outcome that we want, we'll have to play mistake-free football and keep the ball out of the hands of their offense."
For funny and incisive sports analysis, follow Mike Flanagan on his personal Twitter at @fLAno0.