[ccfic caption-text format="plaintext"]
By Michael Flanagan
Hometown Weekly Sports Editor
Following a 2-2-0 start to the season, the defending Division II state champ Wellesley High girls have played 10 straight contests of unbeaten hockey.
On Monday, the Lady-Raiders (7-2-3) hosted another Division II South heavyweight, Notre Dame Academy (Hingham), at Babson. Despite outshooting the Cougars (9-3-1) by a final count of 22-8 and dominating the time on attack, the Lady-Raiders were forced to settle for a 1-1 tie after NDA eighth grade goalie Lily Prendergast made 21 saves.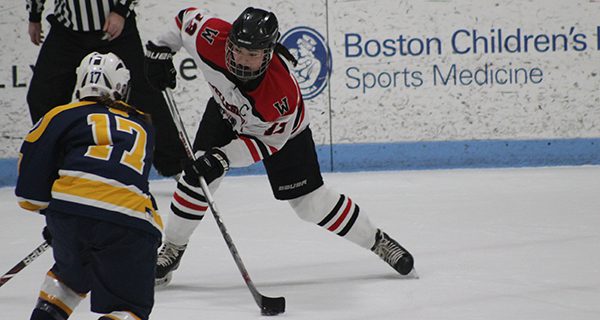 Less than three minutes into the contest, Alexa Graziano dangled her way through a maze of Raiders in the neutral zone and stormed in on a breakaway. The senior deked to her backhand and deposited the puck past the left pad of Wellesley goalie Liddy Schulz to give NDA the early 1-0 lead.
Junior forward Emily Rourke nearly responded for Wellesley - twice - in the final minutes of the first period, but was turned aside on each of her two breakaway bids by Prendergast as the Cougars took their 1-0 lead into the first intermission.
The Lady-Raiders really began to up their tempo at the start of the second period. With the type of night Prendergast was having in net, the Raiders were going to need to get gritty in order to tie the game up. With 4:54 remaining in the period, sophomore forward Michele Bourdon forced a turnover in the high slot on an NDA breakout. The puck bounced right onto the stick of sophomore forward Lauren Burke, who fired a wrist shot through traffic. The puck squeaked its way through Prendergast to knot the game at one at the second intermission. The third period saw both the Raiders and Cougars play a conservative brand of hockey in order to ensure at least a point out of the contest. The best chance of the period came with just under six minutes to play, when junior forward Mackenzie O'Neil received a cross-ice feed from Rourke on the doorstep of the net, but the puck took a terrible bounce and skipped up over O'Neil's blade and behind the net. The bad hop prevented the go-ahead goal for Wellesley.
The game ended in the 1-1 tie, and Wellesley remained unbeaten for their 10th straight contest.
The Lady-Raiders will return to the ice on Friday in Rockland against these same NDA Cougars to complete the latter half of this mid-season home-and-home series.
For funny and incisive sports analysis, follow Mike Flanagan on his personal Twitter at @fLAno0.