By Mike Flanagan
Hometown Weekly Sports Editor
For many in the town of Walpole, the high school's Rebel mascot holds a lot of sentimental value. At the same time, there are many, both within and outside of the town, who connect the Rebel mascot to racism and the Confederacy.
Some have called and petitioned for the school to change the Rebel mascot. Subsequently, this call for change has sparked opposition, and its own petition.
This week, I'm seeking community input from current and former Walpole High School athletes about a potential mascot change. While these athletes have all worn the same orange and blue uniform, they all have different viewpoints on the matter. It is important that those in charge of making this important decision, as well as everybody within the Walpole community, listen to each of them.
Before reading this article and jumping to conclusions, remember that debate is one the greatest tools and freedoms that we have in our country. We live in a time when we need to listen and be open to new ideas, but we also must be willing to challenge these ideas with fair, honest and objective debate.
To start, I spoke to Ray Loussaint ('20), an African-American alum of Walpole High School who played wide receiver for the football team.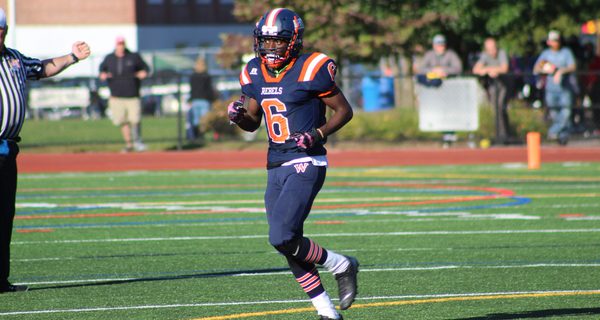 Infamously, a resident of one of the houses neighboring Turco Field hung a Confederate flag along the fence for all to see. After years of fighting and petitioning to have the flag taken down, the school decided to block it from view. Louissaint referenced this in his reasoning as to why the school should change the Rebel mascot.
"[In] my opinion they should change the name 'Rebel,'" said Louissaint. "Because, for a black person like myself to play for a team that supports the Confederate flag behind closed doors, it is every uncomfortable. As you may or may not know, our school covered up the Confederate flag not too long ago, and that flag means white supremacy."
Haidar Faraj ('21), a rising senior and a member of both the Walpole High School football and basketball teams, opposes the name change and says that the Rebel mascot holds value to the Walpole community and its athletes. Faraj adds that the racist ties the mascot may have once had no longer represent what Walpole Rebel athletics are all about.
"I know most people look at this as just a name change but it's so much more to me and to anyone else who has ever thrown on a [Walpole High School] jersey," said Faraj. "To us, it's a family bond and a culture. We believe the racist ties have been left in the past and no longer represent what the Rebels are about."
Cam Schlittler ('19), a former star pitcher for Walpole High baseball and now a member of Northeastern baseball, is also in opposition to changing the Rebel mascot. Schlittler says "Rebel pride" holds a heavy place in his heart, and that the word "rebel" has way more to do with the grit and determination athletes possess in this town than it does with racism.
"Ever since I was a young boy, I always dreamed about playing sports at Walpole High School," said Schlittler. "I told my dad I would never go to another school. As I got older, I was able to watch some of the best athletes, who later went on to [play] pro ball, come back and teach the younger generation of Rebels how to be successful. If that isn't 'Rebel pride,' then I'm not sure what is. Our town is not big, and people say we can't produce pro athletes, but over my last four years at Walpole High School, I witnessed players be so determined, committed, and hardworking. Being a Rebel gives me pride, and when I look back on being one, I see the success we have produced together as a community. I will always be a Rebel, and I want the younger generation to experience what it truly means to be a Rebel, and that's not being a racist."
Schlittler acknowledges that there are problems we are currently facing as a community, and says he sees the other side of the argument, but also believes some people might be trying to take advantage of the current times and force Walpole High into changing the mascot.
"Personally, I have not made public opinions on the matter on social media, but the name should stay," said Schlittler. "I understand the problems that we have as a community, and many want the name to be changed, but they have already tried and failed before. Now, the same people think they have a better chance to succeed while [we are] going through a pandemic and racial injustices. The meaning of 'Rebel' goes beyond what many suspect to be the truth. If Walpole High School ever used 'Rebel' as a racial term, then the name would never have stuck for this long. I understand the side of those who want the name changed, but being someone who worked so hard to become a Rebel, my pride, as … with many others', will never fade."
The son of Needham Police Chief John Schlittler, Cam says he has been doing a lot of listening these last several weeks with all of the protests going on, instead of speaking out on the matter. Schlittler added that he will always support his father and his career path for his yearning to make a positive difference in the Needham community.
"As I watch arguments flourish from both perspectives on social media, I am able to understand both sides because personally, I will not make a public statement on the matter in respect of my father - because either way someone will disagree," said Schlittler. "I will always support him because he is not the man most cops are assumed [to be]. My personal opinion has not changed and it never will, but the most important thing is that I support my father's career towards making a difference."
Schlittler concluded his statements with a message to those who petitioned to change the mascot name, as well as those in charge of making the ultimate decision of whether or not to keep it.
"I would like to tell the people who made this petition how deeply important it is to be a Rebel," said Schlittler. "The meaning of Rebel pride goes beyond our past, but not everyone can truly understand what it means to be one, and these are the people who want to make change to a well-organized community. To those of power within the school system, many of you have seen and witnessed the athletic success and support us Rebels have achieved. I am extremely disappointed in those who have watched every sweat, tear, and sacrifice each and every Rebel has made. The Rebels have made history, and it will never be the same if the name changes."
Kelly Fogarty ('17), a former basketball star and member of Walpole's 1,000-point club, is in favor of changing the Rebel mascot. Now a guard for the University of Maine, Fogarty says it is important for people to realize the value that changing the Rebel mascot would have for the black community.
"Not only do I think that this change is overdue, but I am surprised that there is even controversy over the decision," said Fogarty. "In my opinion, there should be no argument about making a change that will have a positive impact on black lives. I fully support the Black Lives Matter movement, so it is my duty to speak out and advocate for the black community. The claims that the name 'Rebels' has been 'rebranded' doesn't hold. The name 'Rebels' is associated with the Confederate army that fought to support slavery; you can not change history. This is a perception held by many, both within and outside of our town, and it is a name that is not supportive of people of color. It's insensitive and wrong. The town of Walpole needs to make this long-overdue change to prove that we have zero tolerance for racism."
Fogarty acknowledges the town's efforts to get rid of the Confederate flag next to Turco Field was a good gesture and a solid move in the right direction, but also says that the move took too long.
"The visibility of the Confederate flag reflected poorly on our town, our high school and the values of our citizens for many years. The petition to take it down was obviously necessary and a positive answer, but it took way too long."
Fogarty also disputes the idea of "Rebel pride," and says she believes true pride lies in our ability to evolve and grow as a community.
"As an athlete who played for the Rebels and graduated from the high school, I can not justify the argument that this is about Rebel pride," said Fogarty. "The argument that the name 'Rebels' does not tie back to racism or the Confederacy is simply not true. True pride is being able to evolve, grow, and realize that we, as a town, can be better. Let's have Walpole pride by doing everything we can to erase any possible connection to racism. Let's ditch the name that divides us and find one that unites us, all of us."
Robert Colburn ('18), a former football, hockey and lacrosse player at Walpole High, also opposes the name change. A rising junior close defenseman for Franklin Pierce lacrosse, Colburn says Rebel pride means a lot to him, and that the mascot embodies the pride and culture that has been built within the community. Colburn also cited the 2020 Division I South champion boys ice hockey team, saying this group epitomized what Rebel pride is all about.
"What Walpole Rebel pride means to me is being proud of where I was raised and the culture and community that we have in Walpole," said Colburn. "From a young age and throughout all athletics, it is clear how much pride can be seen by those who have had the opportunity to wear that uniform, and how much the town of Walpole supports all of its teams, year after year. Throughout all my years playing as a Rebel, hard work was always emphasized and my coaches never gave me an easy way out of things, which has turned me into who I am today. The boys hockey team this year was a perfect example of what it means to be a Rebel. They made it into the tournament in their last few games and were able to make a run all the way to the state championship. They outworked teams every step of the way and never believed they were out of the fight at any point."
"Personally, I think the Rebel name should stick because it perfectly embodies the culture of Walpole and it's athletics as a whole. Almost anyone involved in athletics understands how much pride the students who get to wear the [Walpole] jersey have, and how much of the town's blue-collar and hard-working beliefs have influenced it." 
Colburn also discussed the school's efforts to change its image and acknowledges that there is no denying the issues the school has run into in the past. Colburn noted the removal of all swords from the Walpole logo and uniforms, as well as the school putting up a barrier in front of the Confederate flag that used to hang next to Turco Field.
"The school has done a lot of work to change its image and there is no denying the wrongdoings of the past," said Colburn. "They removed the swords from the Rebel logo on all uniforms and did not condone the actions of the neighbor by the entrance of Turco. They put up a barrier to block the flag and also took other measures, like preventing students from wearing clothing that could be deemed racist while competing in athletics. I used to wear a t-shirt that said 'Rebels' on the front with an Ole Miss logo on the back under my football and lacrosse uniform, and they put a stop to that my senior year."
When it comes to the opinions and feelings of others within the community, Colburn understands that he will never live and feel the same experiences that African-Americans do. However, in Colburn's experience, Walpole High School was a welcoming and inclusive environment for he and all of his fellow students and teammates, regardless of race.
"As a white male, I understand that I do not see the world the same or have the same experiences as people of color. During my time playing football, I experienced an environment that was welcoming to all students. It did not matter what your skin color or background was, and everyone was able to come together, working to achieve the same goal of being successful." 
Colburn finished by speaking out to those in charge of making the ultimate decision of whether or not to change the mascot.
"If I could speak to the people in charge of this decision, I would first ask them if they played sports throughout their time at WHS. It is very easy for an outsider to misconstrue the true meaning behind the Rebel name, and after seeing the graduation parade, it was clear that families in Walpole do not want to see it go. In my opinion, those who have not sacrificed their blood, sweat and tears while wearing it should not have a say in this matter. It does not seem right for someone uninvolved to make this sort of change without at least getting the opinions of the athletes who will be affected."
Petitions for and against the Rebel name change can be found online, respectively, at https://www.change.org/p/walpole-school-committee-change-the-rebel-name and https://www.change.org/p/walpole-high-school-keep-the-rebels-name.
For funny and incisive sports analysis as well as game highlights, follow Mike Flanagan on his personal Twitter and Instagram @flano0.