With the dry weather at Braintree High, dirt kicked up all over the field.
By James Kinneen
Hometown Weekly Reporter
The NBA is playing in a "bubble" inside of Disney World, Major League Baseball loses what seems like a game a week due to positive COVID tests, and in about a month, both the NFL and college football are going to be playing with teams comprised of those players who opted not to sit out the season. The point being, in the time of the coronavirus, every league, coach and team has had to adapt to a changing world.
In its first year, the MIBL is no different. Last Monday, Needham beat Walpole, 7-3, but the circumstances around both the win and the rest of the season are interesting.
Needham was all over Walpole early, taking a 5-0 lead by the bottom of the third inning. While Walpole's starting pitcher, Donovan, settled down, he was pulled and replaced in the fifth inning for Zack Oles. The decision was in large part due to the team having to play a game directly after and the playoffs coming up, and coach Frankie Welter not wanting him to throw too many pitches.  
"I think our starter struggled early because he hadn't pitched in two weeks, but once he settled in, I thought it was a competitive game. We had an eighth grader pitching the rest of that one out before a doubleheader, so it was a good experience for him, even though he unfortunately allowed that home run. But he'll grow from it."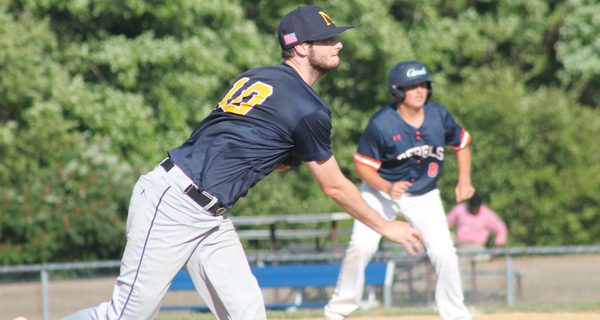 Oles pitched well and certainly didn't look like he was that much younger than the other players, until the Anderson brothers nearly went back-to-back on him in the seventh inning. First, Hunter Anderson hit a deep triple that almost left the yard, only to be quickly upstaged when his brother, Bryce, launched one over the fence soon after.
At that point, the game looked to be over. However, Needham starter Kyle Lambert began to tire and approached 100 pitches, so the coach pulled him and brought in Nico Schwartz who ended the game.
"Once again pitching was fabulous for us," Coach Krechting noted. "Kyle got into the seventh inning and pitched a great game. Great close by Nico Schwartz helped save the game for us. And then the home run from Bryce. Another awesome game from Bryce Anderson."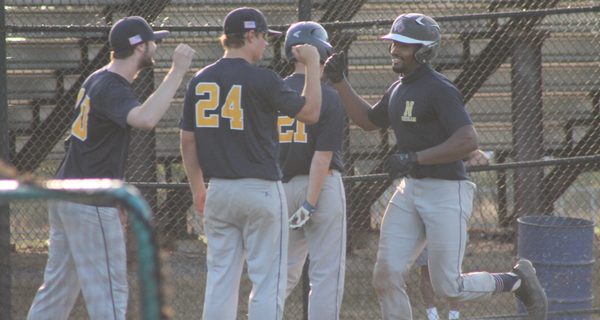 In an era when pitchers are constantly pulled and replaced to the frustration of baseball fans, coach Krechting noted that he will let his guys pitch, but likes to keep it under 100 pitches.
"Were very cautious of that. He was almost at 100 pitches, so we said that was enough. You could tell he was getting tired anyways - you can pretty much tell with these kids - so on our team, at least, we try to limit it to 100 pitches. No more than that. It's not the old days of guys throwing 200 pitches."
Walpole coach Welter was even more restrictive on pitching, knowing both that he had a game soon after and the playoffs were fast approaching.
"We were very restrictive on the pitching. Our starter is going to be pitching game one of the playoffs, so I gave him 35-40 pitches. He ended with 40."
He also noted the success of his young players as a highlight, including one with a familiar last name.
"We had another ninth grader, Corey Kilroy, with a nice double. And then in the 7th, we had Blake Conroy and Connor Schlittler with back-to-back hits to spark a comeback, so that was good."
Schlittler? Yes, it's the Northeastern star athlete's younger brother
"He has big footsteps to follow," Welter explained, "but he's unique in his own way, so I like him."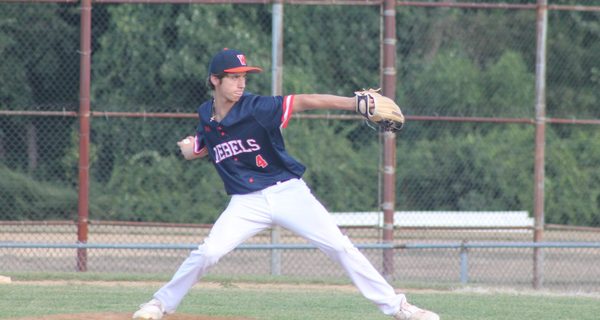 If it doesn't seem fair that Walpole had to play back-to-back while Needham didn't, you should know there are lots of things that aren't especially fair in the league. For example, while the playoffs are fast approaching, Needham is losing a few players to college.
"We're losing a player to college, and then in the playoffs, I lose our two best players to college: Bryce and Hunter Anderson."
How's the team going to make up for that loss?
"It's going to be tough."