Matt Donahue (26) fires home a pitch in the top of the fifth inning during Medfield MIBL's quad-clinching 7-2 victory against Franklin on Saturday night. Photos by Mike Flanagan.
By Mike Flanagan
Hometown Weekly Sports Editor
Medfield/DS MIBL had itself a more than impressive weekend.
The River Rats slugged their way to three consecutive playoff victories against Dedham and Franklin (twice), winning their quad of the MIBL playoffs and advancing to the final four.
On Saturday night, Medfield (3-0) entered their contest with Franklin (2-2) needing a win to clinch the quad. A loss would have forced a winner-take-all third game against Franklin on Sunday afternoon. From the start, it was clear that Medfield came to put Franklin away and avoid that extra game.
Will Stolzenbach sent Franklin down in order in the top of the first via a strikeout, a lineout to second, and a fly to center.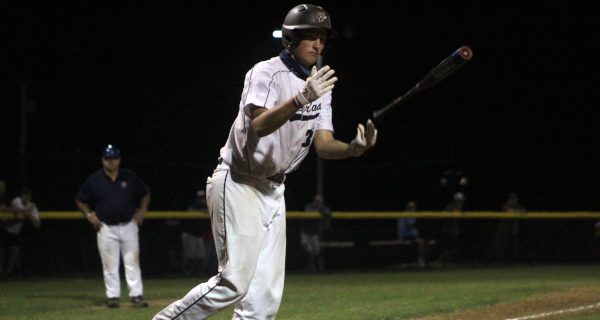 Max Goodman led off the home half with a bunt single. Sam Palmer reached on an error, followed by a walk to Dennis Folan. Sam Kornet drew a walk to force home the game's opening run in Max Goodman. Ben Leonard followed it up by crushing a single to center to score Palmer and make it a 2-0 game. Jack McDonald drew a hit-by-pitch to force home a third run. The big hit of the inning came from rising-junior shortstop and Division I prospect Jack Goodman, who clobbered a double off the left field wall to score Kornet and Leonard, extending the lead to 5-0. RBI fielder's choices by Ryan Murray and Max Goodman scored an additional two runs. When the dust finally settled, Medfield held a commanding 7-0 lead after one inning.
From there, the River Rats cruised. The defensive play of the game came in the top of the third inning, when third baseman Jack McDonald charged a slow roller down the line, barehanded the ball and gunned out the runner at first to conclude the inning. 
The seven-run cushion was all the run support Stolzenbach (three innings, 0 runs, two strikeouts) and the Medfield pitching staff would need. Matt Donahue (three strikeouts) pitched three solid innings of shutout relief before Max Goodman came on to close it out. Franklin spoiled the shutout in the top of the seventh, thanks to a two-RBI single by Jake Macchi, but the damage was done. A groundout to Jack Goodman at short with the bases loaded ended it, and Medfield/DS came away with the 7-2 victory.
For funny and incisive sports analysis as well as game highlights, follow Mike Flanagan on his personal Twitter and Instagram @flano0.