Lauren, Matthew and Ryan made the event far more interesting with their near constant inside jokes and quips.
By James Kinneen
Hometown Weekly Reporter
Winterfest is the major fundraising event for the NHS Friends of Music, but with COVID-19 forcing large in person concerts to go the way of the handshake, the kids from Needham High School had to turn to a virtual event. While it was different, the laid-back atmosphere, ease of access and visual-aided performances made it a fun night that still ended up raising $4,000.
Replacing the rather stuffy conductor introductions were the comedic stylings of emcees Lauren Biedron, Matthew Duthaler and Ryan Judge. Heavy on inside jokes, the three introduced every song and filled the void during the brief, and very infrequent technical glitches.
First, the three spoke with Superintendent Dr. Dan Gutekanst about his "life mission" of eliminating snow days finally being complete, and what he's been doing during the quarantine (running, reading and watching "The Undoing," for those keeping track). Noting that while students and teachers have gotten COVID-19 elsewhere, there has not been a recorded in-school transmission, Gutekanst declared: "Thank you for putting together Winterfest. In-person is certainly one thing, but I'm just so proud of our musical students and all our students, K through twelve, who have really been pretty amazing this past fall under really challenging and unbelievable circumstances."
In the first act, viewers were introduced to the NHS Chorale and Chorus' performance of "The Road Home," which would feature, according to Duthaler, "Not me, because I quit chorus to take AP Bio instead. Sorry Mr. P - enjoy!" It was pointed out on a few occasions that Duthaler had quit a wide variety of music programs - though he did point out his success of making both states and nationals at one point.
The Traditional Music Ensemble sang "Tell Me Ma" in front of a virtual Irish pub background, and Talia and Alex Bloom sang Ben Platt's "In Case You Don't Live Forever." Lauren Biedron pointed out after the performance: "You can follow them on Instagram at blooms_sing. Maybe we can get them to 400 followers by the end of the night, but no creepy DMs, because they're still in high school."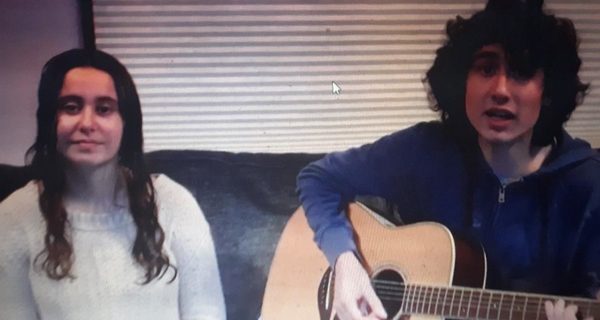 Unfortunately, Lauren's cries fell short; the Blooms' page stalled at around 372 followers, despite their very compelling performance (although there are many just as good on their Instagram page). The is no word on the creepy DM situation.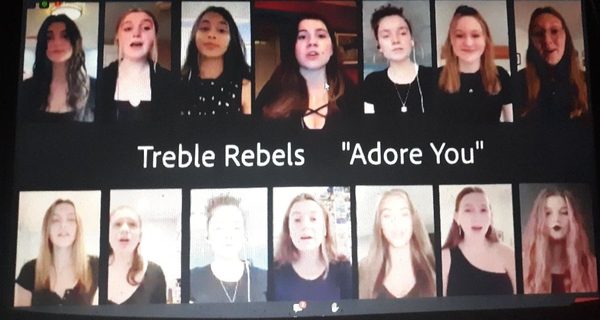 Duthaler and Judge next introduced the Treble Rebels, with Duthaler noting "Next up we've got the Treble Rebels performing 'Adore You' by Harry Styles, soloed by the wonderful Rachel Dasey." Judge hammered the punchline of "I really adore… this virtual setting." After that came Lauren Libscomb's "Put Your Records On," and the classic "Sleigh Ride," which Duthaler playfully mocked by pointing out: "What better to play than what we play every year? 'Sleigh Ride'!"
Keeping the holiday theme rolling, the Jazz Band next played "Winter Wonderland," and Luren Biedron, Matthew Duthaler, Bella Gonzalez and Brian Curry sent viewers into intermission with "We Wish You a Merry Christmas."
At intermission, Stacey Gauthier appeared to get serious for a bit, and to point out that there is a link in the chat function of the Zoom call that showed where people could donate money. "This is our major fundraising event. It helps us fund scholarships and all kinds of programs that support performing arts at the high school," she explained, noting that the a cappella kids haven't been able to practice together in person at all, and that in the summer they were incredibly dismayed at the idea they wouldn't be able to show their talents at all.
Counterpoint took viewers out of the break with a performance of "Havana," which featured a solo from Lauren Biedron. If it sounds like Lauren was getting a lot of camera time, you should know she was very self aware about the whole situation.
"You're seeing a lot of me, but don't worry," she explained. "I will be gone in a few months."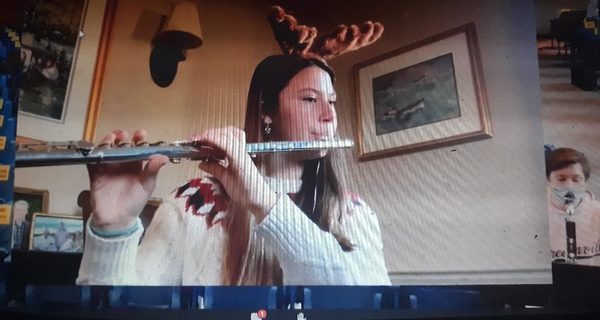 The strangest responses, though, lived in the comments section, where Fermata Nowhere's performance of "Electric Love" prompted a fan to write "Fermata could hit me with a bus and I'd say thank you." The Subway Dwarve's performance of "Watermelon Sugar" by Harry Styles, meanwhile, prompted another to argue "the dwarves are standing tall tonight."
While there were many jokes about avoiding the awkward shuffling onstage and off, the unique setup allowed far more people to "attend" than ever could have in the auditorium. According to Duthaler, there were viewers from as far away as Texas, Wisconsin and New Jersey watching the performances, which ultimately raised $4,000 once audio and video costs were subtracted.
It was not your typical Winterfest (and music purists will tell you nothing beats a live performance) - but in many ways, it was more fun, easier to watch and just as entertaining.