[ccfic caption-text format="plaintext"]
By Robby McKittrick
Hometown Weekly Reporter
Just weeks after the Boston Red Sox won the World Series, it was only fitting that a former Sox champion would come to Needham to speak at Temple Aliyah's annual Men's Club dinner.
On Wednesday, November 14, Temple Aliyah welcomed former Red Sox reliever and Jewish baseball player Craig Breslow to speak at their annual event. The dinner generally includes a speaker involved in sports, such as former Red Sox great Rico Petrocelli or current Boston sports media members Dan Shaughnessy and Tony Massarotti.
Despite the great speakers in the past, having Craig Breslow speak at the temple on Wednesday night was definitely a special occasion for the temple.
"I've been getting emails that people are excited to hear him," said the organizer of the speakers for the temple, Steve Markman. "People are very sports savvy around here, so they will ask him a lot of questions."
The overall purpose of the annual dinner is to raise money for the temple and create networking opportunities.
"It's our primary fundraiser," explained Markman. "We use the money to help the temple at large … [and create] camaraderie among the men's club members."
There were around 125 people who showed up for the talk, and all of them were excited to meet the former Red Sox reliever and hear him speak.
"It's always great to hear what [a player's] experience was in the Major Leagues, and how they came up and what their experience was in the ranks," said Red Sox fan and Temple Aliyah member Michael Dunsky. "You don't hear all of the juicy stuff when they are playing."
"Of course, I'm a Red Sox fan," said another regular attendee of the annual dinner, Harvey Leavitt. "This is Beantown right here. We have to support our teams… I've watched [Breslow] pitch… I hope I can meet him."
Breslow just finished a successful 14-year career in the Major Leagues, where he played on a variety of teams. However, the most meaningful team he played for during his long tenure in the big leagues was the 2013 champion Boston Red Sox.
"2013 was a very different time for this city," Breslow said before the talk. "I think you can argue that the city needed the success of that team more than they did [today]… 2013, circumstantially, was a special and unique time that will not be replicated."
Breslow also shared his appreciation for the Red Sox' latest World Series victory.
"It was incredibly impressive," he said. "Just a dominant run through the season and the postseason. In terms of how this Red Sox team stacks up against prior others, I think pretty favorably."
"I don't think you can heap enough praise on Alex [Cora] and the job he did," Breslow added. "Obviously the team is incredibly talented, but the changes and the impact that [Cora] made were pretty well documented."
Breslow is not your typical professional baseball player. For example, he went to Yale, majored in molecular biophysics and biochemistry, and had to show a tremendous amount of resiliency and dedication to even make it to the big leagues.
"I have long felt that on its face, my story is pretty unique," he explained. "People tend to appreciate the underdog success stories. I would like to just tell my story [and] stop for a second at a couple of different teachable moments on its way."
Breslow began his speech by joking that another famous Jewish pitcher could not make it, which is why he showed up to the dinner.
"It turns out Sandy Koufax narrowly missed his flight," he said to the audience's amusement. "In all seriousness, I am delighted to be here. I have a long and proud history with the Boston Red Sox, and I am literally speaking to the most hometown of hometown crowds."
Breslow then delivered another self-deprecating line about his unlikely success in the big leagues.
"This may come to a surprise to many of you, but a 5 foot 10 [inch] Jewish kid with a degree in molecular biophysics and biochemistry from Yale is not supposed to carve out a successful Major League Baseball career," he joked.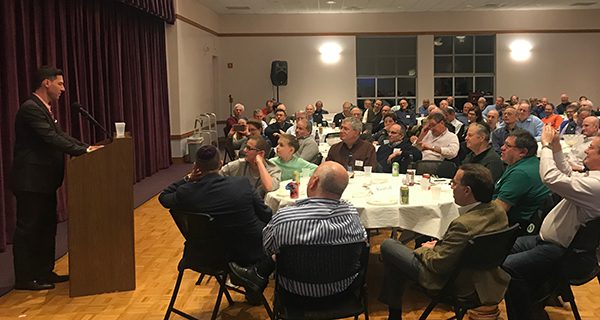 Breslow spent almost an hour talking about his journey to the big leagues, what it was like playing for the Boston Red Sox, his experience playing for the Israeli national team in the World Baseball Classic, and his overall thoughts on what he has learned over his long career.
"I have been incredibly fortunate for the success that I've had," he reflected. "Find something that gives you that passion, excitement, anxiety, and follow it. You'll know when you find it."
Breslow then held a long question-and-answer session, answering a variety of baseball questions from who was the most misunderstood Sox player (Manny Ramirez) to the differences between Alex Cora and John Farrell. He was also asked about what it was like playing in a small market like Oakland, and then transitioning to playing in Boston in 2013. He also addressed what he would do about the pace of play in baseball.
For any Red Sox or baseball fans, it was a truly fascinating talk, filled with unique insight, laughter, and a compelling story about a true underdog. Unsurprisingly for a Yale graduate, Breslow was very eloquent, extremely bright, and thoughtful.
At the end of the talk, Breslow explained that he wants to stay in baseball, either in a managerial role, a front office position, or as a media personality. Either way, Breslow was clear that he is not going to be a doctor (sorry, Ann Breslow), and that he is going to stay in baseball.
"Baseball is probably what defines me," he said. "I'm a baseball guy."