[ccfic caption-text format="plaintext"]
St. Joseph Elementary School (SJES), located in Needham, has officially broken ground on a $3 million renovation project, funded by its "Building for Tomorrow" Capital Campaign. Thanks to the generosity of school families, alumni, parishioners, and other donors, the two-phase project will renovate the lower level of the school, including the cafeteria, library, music/drama space and STREAM (science, technology, religion, engineering, arts, math) classroom, as well as build a playground for Grade 1-5 students.
"When we were given the opportunity to embark on a capital campaign to help enhance our programs and renovate our building, I was beyond grateful," said Charlotte Kelly, principal of St. Joseph Elementary School. "We are adding new educational initiatives every day at St. Joe's, but the renovated space will give us the ability to enhance our academics, and enrichment programs offered to students. I can't thank the supporters of the campaign enough for their willingness to invest in our school, our children, and our staff."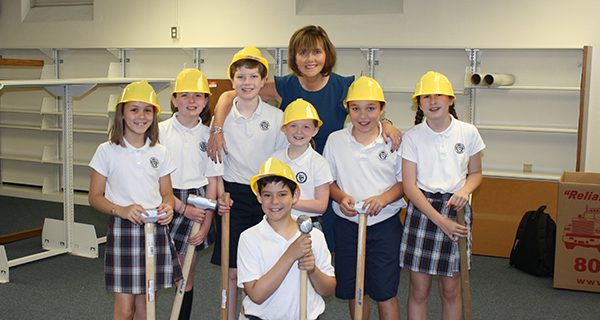 St. Joseph Elementary School was founded in 1954 and the renovation will update its building and bring new innovation, learning, and imagination to students. The project will include a new "cafetorium" that will be the center-stone of the renovation and a place students gather for lunch, as well as presentations and assemblies. Known for its music and drama programs, including its beloved Kindergarten Nativity and 4th grade and 5th grade play productions, the classroom will be re-designed to include a "mini stage" for performances in a smaller setting. The STREAM classroom and a new climate-controlled library will share a glass wall to foster collaboration and idea sharing. Additionally, new lighting, additional storage, and other renovations will be taking place throughout the school as well. The work does not stop there. Phase two of the project will begin in the summer of 2018 with a new playground for Grade 1-5 students, as well as an outdoor amphitheater for the parish's 6th – 8th grade students at Monsignor Haddad Middle School to share with the elementary school.