This girl got bored of fishing and caught herself in the net.
By James Kinneen
Hometown Weekly Reporter
Last February, an individual named Emma Fleck tweeted "if you haven't been in the Hometown Weekly…are you even from Needham?" I found that tweet a couple of months ago while looking for a story I wrote about the beginning of the Needham Rockets' basketball season, but it didn't hit me how relevant the apparent rite of passage was until this week.
Looking for something to write about, and having heard there's an otter people have spotted over the last couple of weeks, I headed to the Needham Reservoir to see if I could either spot the otter or find some people looking for him. I didn't find the otter, but I did meet some interesting people.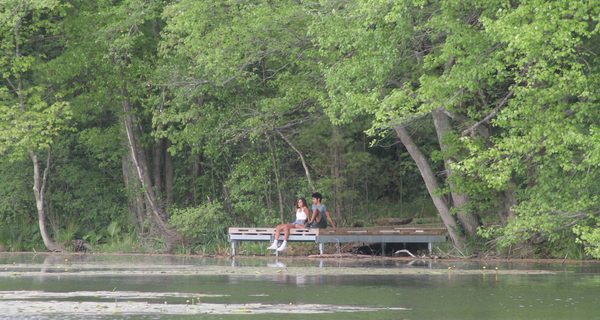 The first group I ran into consisted of a father who had taken his kids fishing for the first time ever. He was struggling pretty badly, consistently casting his line into the tree above him or the weeds below him. Worse, his kids were growing impatient with fishing, and were jumping around on the benches behind him and stuffing themselves into the net he brought. After a quick loop around the trail, I saw the family had opted to go for a walk and fish around the other end of the reservoir. I never saw them catch a fish.
Walking around the trail, there were many areas that had fishermen and others standing around on the docks. One couple was on their knees, staring into the water. While I hoped it was to see the otter, instead I found them looking at a baby turtle.
Another pair of people was trying to figure out a new camera they had just bought, filming each other skipping rocks to try and process how each mode works.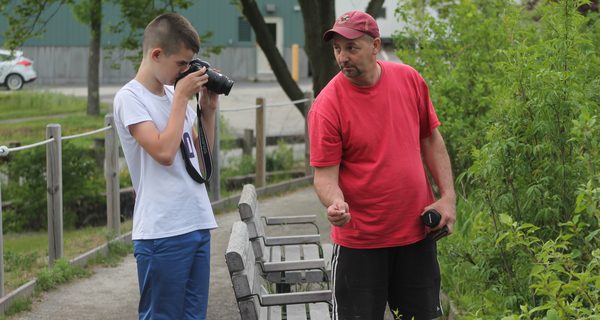 My favorite person I met on the walk, though, was a young man who had just caught a fish. I asked his dad if he'd be okay with me photographing him with the (admittedly not trophy-sized) fish for Hometown Weekly. He said I could, but the boy didn't seem that excited, noting he'd already been in the paper. Thinking I might have written the article, I asked him about it. He said he's from Westwood, and a few years ago, he was photographed at a "Creative Kids" event at the library. I didn't write it, but there's a 2016 article about "Creative Kids" at the Westwood Library with a kid that might be a young him. While I can't be sure, his story checks out.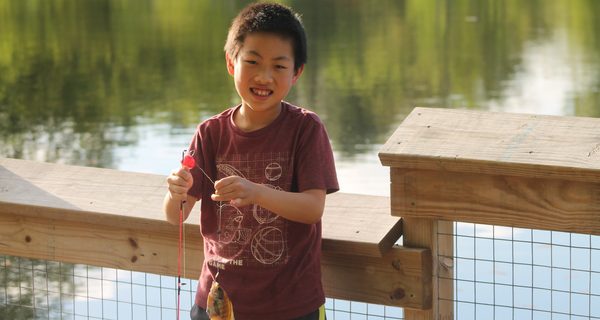 I never saw the otter, but I spent a large portion of my childhood at the Trailside Museum in Canton, though, so I've seen plenty of otters in my life. For me, the more interesting thing was to find out how ubiquitous getting your picture in Hometown Weekly apparently is.
So, to the boy from Westwood, and Needham's own Emma Fleck, it looks like you're in Hometown Weekly again. And to the girl in the net, well, it looks like you're now officially from Needham.