Although not as many as would have taken place with a traditional setup, there were some live art demonstrations, like this one from Mark Richards.
By James Kinneen
Hometown Weekly Reporter
Usually a spring event, COVID-19 cancelled the 2020 and 2021 iterations of Needham Open Studios. Looking to avoid being shut out again, the Open Studios artists opted instead to hold an outdoor version in front of Town Hall.
But while the move was supposed to be a temporary solution, they may instead have created a new event to go along with the traditional one.
The traditional Open Studios involves patrons going house to house or studio to studio around town, watching artists work and seeing their creations come to life in the spaces in which they were made. Obviously, COVID-19 made the idea of strangers visiting one's house and being in close proximity less appealing than before, so the artists of the Needham Open Studios knew they would need to come up with a better solution. That compromise was "Needham Open Studios Inside-Out", an outdoor exhibit and sale on Saturday outside of Town Hall, with a few additional artists at 239 Brookline Street.
"We've had to cancel two Needham Open Studios in the spring due to COVID," Naomi Wilsey explained, "so we made the decision this would be an alternative we'd feel safe doing. And we're really glad we did it, because we've had a great turnout."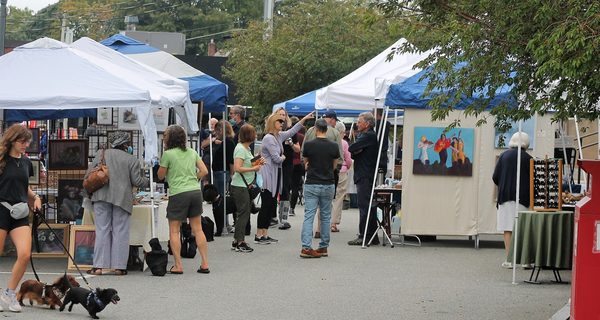 But while the event was a success, there were both advantages and disadvantages to moving from the traditional style to the new version. Wilsey acknowledged it was a pain to haul everything to the new location, but felt the number of passers-by that wouldn't normally go to the event made up for it.
"I think the advantage is that this is a very public area … people are just strolling by, walking their dogs or going for a walk, and they've been stopping and we'll chat with them. The disadvantage is that some of us would exhibit in our home studios, so this is an extra challenge: moving everything to another location. So that's a disadvantage, but I think the advantages outweigh the disadvantages."
Wilsey said that if the artists had to be outside again, she might look into having artists bring pictures of their home studios to show patrons. She also explained that organizers did encourage artists to do live demonstrations and give art projects visitors could bring home with them.
"What we did encourage the artist to do was to bring a demonstration of what they do so you can see an artist sort of at work, because when we were in our home studios we would very often do a demonstration. For example, I've brought watercolor sketches; Gail next door is making handmade books. The other thing we've encouraged people to do is have a hands-on activity, which could be a takeaway project. So I have a children's origami kit I've made up that kids can take home and work on so they can make their own art."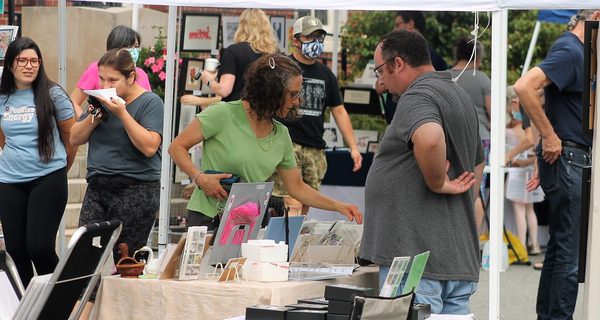 If all goes well, the traditional Open Studios will return in the spring. However, Wilsey believed the outdoor event was such a success that in the future, organizers may look to have it in the fall, and then the traditional Open Studio event in the spring.