How do you get to Symphony Hall? Practice, practice, practice, as well as an outstanding K-12 music program with skilled students and dedicated teachers.
On May 4, four groups from the Needham Public Schools showcased their talents on the Symphony Hall stage. These were the NHS Symphonic Band, the NHS Chorus, The Pollard 8th Grade Treble Chorus and the Middle School Select Choir. They had been chosen from among the ensembles who had earned a gold medal rating at the 2019 Massachusetts Instrumental and Choral Conductors Association Concert and Choral Festivals in April. Other groups that received gold medals at MICCA include the Eighth Grade Band, The High School Wind Ensemble and High School Chamber Strings. Sixteen members of the Chamber Strings performed that same evening at the Great Hall concert, opening for the Brentano String Quartet. In addition to all of the ensemble accomplishments, two students received gold medals at the MICCA Solo and Ensemble Festival on April 27: Nadia Cho (trumpet) and Ryan Judge (clarinet).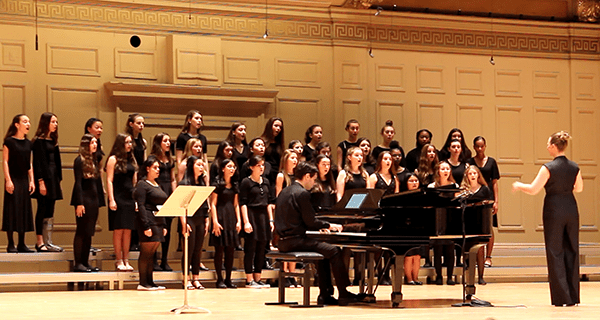 The groups who presented at Symphony Hall played a variety of numbers. The Needham High School Symphonic Band, under the direction of Margaret McLallen, played "The Trombone King" by Karl King and "Toccata Marziale" by Williams. "It's always a privilege to get to perform at Symphony Hall, and I'm incredibly proud of our students for their accomplishment," said their director.
The Needham High School Chorus, led by Jonathan VanderWoude, sang "Nelly Bly" by Halloran and "Take Me to the Water" by Dilworth.
The Pollard Middle School 8th Grade Treble Chorus and Middle School Select Choir, led by Sarah Grina, performed Farnell's "Do Not Stand at My Grave and Weep" and Bach's "Duet from Cantata no. 15," respectively.
All of these performances were received with great applause. One parent in attendance summed it up for everyone by saying, "It was truly a wonderful and memorable event." At this event and many others, Needham Public Schools' music students are demonstrating their outstanding performance skills.