A family enjoys reading 'New Shoes for Silvia,' the second book on the story walk.
By James Kinneen
Hometown Weekly Reporter
Story walks are a newly-popular way to get kids outside, get kids exercise, and get kids to read, all at once. Essentially, pages from children's books are blown up and hung in succession, so a family can walk along a trail and read a story at the same time. Last weekend, Needham held a story walk alongside the fence of the playground at Greene's Field, featuring three diverse stories by different authors.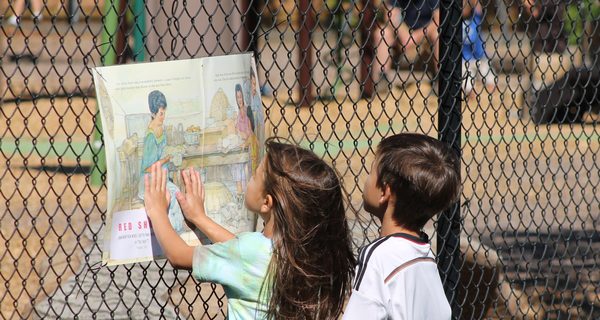 While many families started the story walk but found it tough to complete due to their kids feeling the pull of the playground, some did finish the trio of stories. The first story was "Jamaica Louise James" by Amy Hest. Essentially, the story was about a little girl named Jamaica who gets an art set on her eighth birthday. Her grandma works collecting subway tokens and tells her grandchild about all her passengers when she comes home from work. Jamaica makes a painting of the passengers, and presents it to be hung on the subway. All the passengers recognize themselves and love her artwork.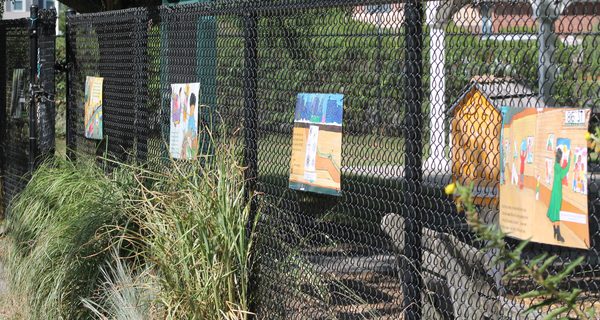 The second story was "New Shoes for Silvia" by Johanna Hurwitz. In the story, a little girl named Silvia gets a bright red pair of shoes that are too big for her. After weeks of trying them on every day, she forgets all about her shoes as she goes about doing other things, until one day she tries on her shoes and they fit perfectly.
The third story was "Mufaro's Beautiful Daughters" by John Steptoe. Basically, the story is that an African king has to choose between two beautiful sisters, one of whom is mean and one of whom is nice. He disguises himself as an average villager and finds out how nice the one sister is, so he marries her. Based on an African folk tale, and in some ways similar to fare like Cinderella (there's a magical green snake who acts a lot like a fairy godmother). The book was a huge success, having won a Caldecott Honor for Illustration - although Steptoe would tragically die of AIDS at only 38 years old.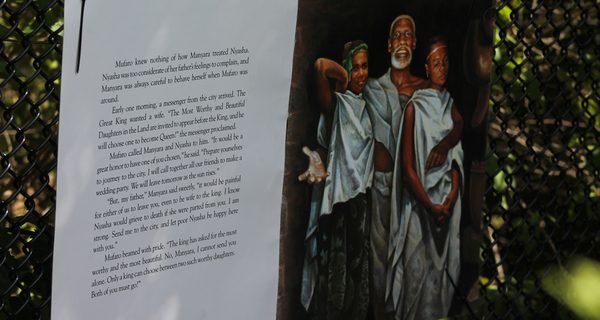 Accompanying every story were little fun facts and challenges. For example, there was a map of the Caribbean to explain that "Jamaica" wasn't just a name, it was also a country. There was an open question about how life in an African village differs from the reader's life in Needham, and even a word search.
The wind had claimed a couple of the stories, making them hard to read. Luckily, a lot of the kids on the story walk spent much of their time trying to right the pages for the next group.
While the swing sets and slides may have been the main attraction at Greene's Field - particularly considering they'd been covered in police tape for the last months - the story walk did attract its fair share of readers.