The 'Lake Ness Monster' prowls the shores of Farm Pond Beach.
By James Kinneen
Hometown Weekly Reporter
Dover has its demon, and now Sherborn has the Lake Ness Monster of Farm Pond.
Or, at least they did on Sunday afternoon, when the three-humped monster made of sand won the famed Golden Shovel at the 36th annual sandcastle building competition at Farm Pond Beach.
There were some strong candidates for best in show, ranging from the timely Emoji of Summer 2020 - which was a smiley face with a surgical mask on it - to the lifeguard team's Easter Island-inspired sculpture, which was re-sculpted enough times that passers by wondered if the lifeguards were getting overtime.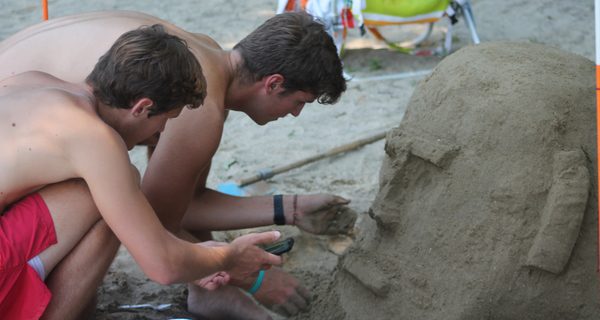 The most Avant Garde sculpture was Lee, Grace and Dean Andron's crumbling castle. "It's a reflection of society today," Lee explained. "The destruction caused by the myriad of problems we face on a day-by-day basis. I'm a single dad with my two kids, and we're out here just struggling to build a foundation upon which we can build our lives. The cards are stacked against us, people." It was challenging. It was provocative. It was absolute malarkey. He botched the castle when it crumbled under the weight of a concrete mixing bucket and (as he later admitted) scrambled to justify the mess.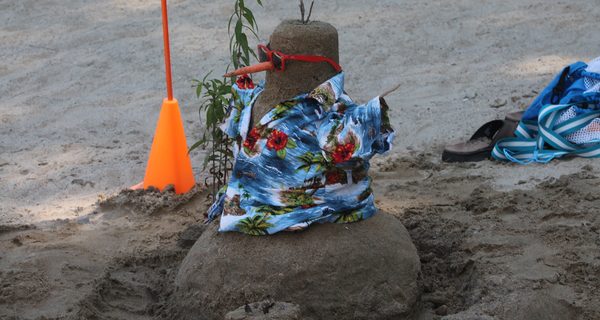 No contest is devoid of controversy, though, and the sandcastle contest was no different. Aaron Padock and his family made "Olaf in the Summertime," which came complete with an Aloha shirt. This was highly controversial because (although Paddock didn't know it) outside props were banned. While the team came in third, they were likely hurt by "Lettin' Off Steam," another snowman with illegal props, like a pair of aviator sunglasses.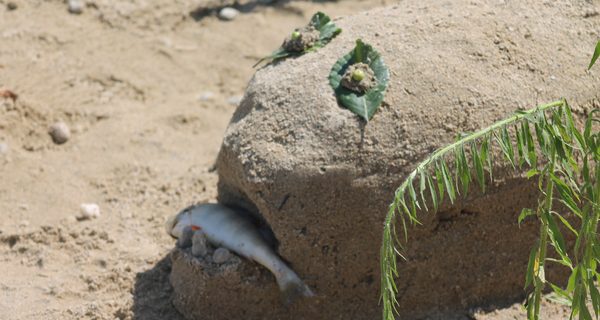 Speaking of props, the second-place finisher was a shark with an actual dead fish in its mouth. Where did they get the fish? According to its creators, they simply found it on the beach. Why they found a dead fish on the beach and decided it would make a great sandcastle prop, rather than questioning if they should be swimming in the water that led to its demise, is unclear. But in fairness, the fish did make their sculpture significantly better.
As for the overall winners, they would be Joey Talbert, Renee Poblenz, and Kurt Poblenz. After receiving the Golden Shovel, Joey explained the thought process behind the monster's creation.
"Our sculpture is called the Lake Ness Monster, so it's like the monster that lives in Farm Pond. Renee drew it out for us, because she's the artist in the group and my husband dug it out because he's the muscle. I always like to do something that has to do with sand. One year, we did a sandwich, one year we did a traditional sand castle, one year we did a mermaid, and when we were thinking of what to do, there was a turtle in the water that kept coming around and making us nervous. We were joking about the turtle in the lake and we figured, 'lets make a lake monster.'"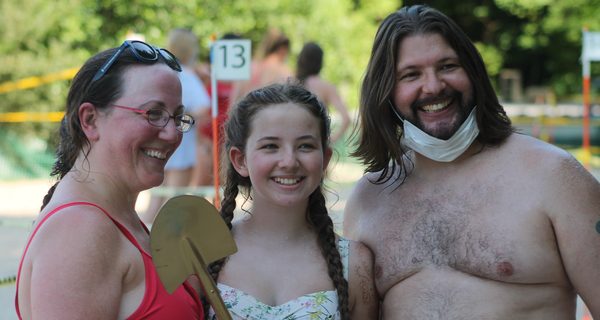 Joey's team overcame a bit of chaos when she made a snake head and tried to get it to look friendly, which caused a rift between her and the other members of the team, who preferred a more sinister look. Nonetheless, the team pulled together and won the title they very much plan on defending.  
"Our plan is already in the works," Joey explained, "but we can't divulge our secrets."