Massachusetts Horticultural Society's 9th annual Festival of Trees will take place from Friday, November 24 through Sunday, December 10, at Mass Hort's Elm Bank property, 900 Washington Street, Wellesley. The festival will showcase decorated trees and feature Snow Village, an extensive model train and holiday village collection. The Festival of Trees, in the Hunnewell Building, offers beautifully decorated holiday trees that are donated and decorated by local businesses, garden clubs, and individuals. Visitors "vote" with their raffle tickets hoping to be the tree winner at the end of the Festival. Visitors can enjoy the decorated buildings and grounds at Elm Bank with a stroll or a horse-drawn wagon ride. For the young at heart, there are visits from Santa and fun activities. New this year will be the food truck, Trolley Dogs, on Fridays, Saturdays and Sundays.
Snow Village is an enchanted exhibit of holiday villages and trains. Donated by Bill Meagher of Needham, it continues to add more intricate figures to the towns and villages. Snow Village is located in the Education Building, where model trains wind through Dickens' Village, as well as old favorites, Fenway Park, Beacon Hill, and Snow Mountain. This amazing scenery in miniature is sure to get kids of all ages excited about the holiday season.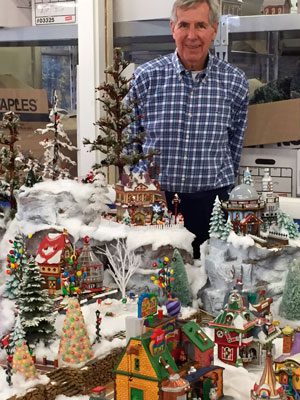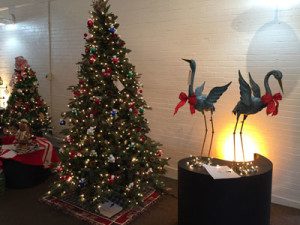 Holiday Festival hours include November 24-26 from 10 a.m. - 8 p.m., November 29 - 30 from 4 p.m. - 8 p.m., December 1-3 - 10 a.m. - 8 p.m., December 6- 7 from 4 p.m. - 8 p.m., December 8 - 9 from 10 a.m. - 8 p.m., and December 10 from 10 a.m. - 6 p.m.
Admission is $10 for adults, children under 12 free. Mass Hort members are $8. Visit Masshort.org/festival-of-trees for a detailed schedule of events. Join Mass Hort and admission is free that evening. The Festival is open on weekday mornings for senior visits by appointment; call (617-933-4988) for more information.
The Festival of Trees is presented by Massachusetts Horticultural Society, a 501(c)(3) educational organization. Founded in 1829, Massachusetts Horticultural Society is dedicated to encouraging the science and practice of horticulture and to developing the public's enjoyment, appreciation, and understanding of plants and the environment. Located on 36 acres in the historic Elm Bank Reservation, Wellesley/Dover, The Gardens at Elm Bank provide a beautiful open space where people of all backgrounds can come together for inspiration and education.